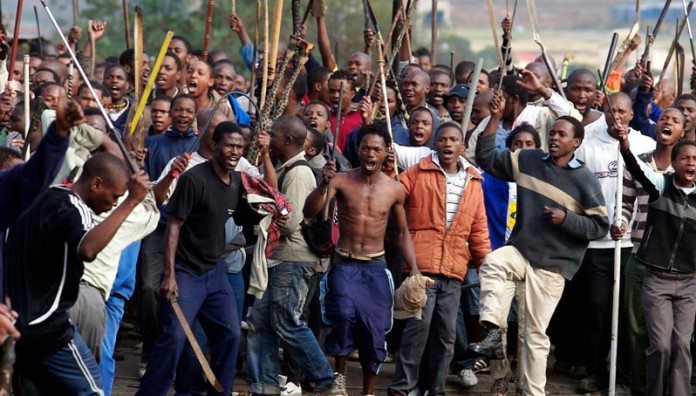 SIBANYE Gold's hardball approach to union misdemeanours took a fresh turn today after the company suspended six Association of Mineworkers & Construction Union (AMCU) officials at its Kroondal platinum mine pending a disciplinary proceeding.
The AMCU members face charges including the intimidation of employees at the mine. The six members, who are all shop stewards, include the AMCU branch chairman against whom criminal charges have been laid with the South African Police Services. This was after allegedly making direct threats to Kroodal management.
"The threats and intimidation made by AMCU representatives are unacceptable and will not be tolerated by Sibanye," said Jean Nel, CEO of Sibanye's Platinum Operations.
"Management at Kroondal has been negotiating on various issues in good faith with the union. The unlawful manner in which the AMCU representatives behaved is of serious concern as it threatens the safety of our employees as well as the viability of the operation," said Nel.
"In terms of the Recognition Agreement, the AMCU leadership have to accept accountability for any actions their representatives take," he added.
The suspensions reflect Sibanye's no-nonsense approach to its labour relations strategy which is not to tolerate unprotected strike action and to oppose intimidation of employees.
On May 27, South Africa's Labour Court granted Sibanye Gold an interdict judging a proposed strike at Kroondal by AMCU to be unprotected. AMCU subsequently suspended the strike which related to the issue of providing transport to miners at Kroondal – something with which management had been tackling at the time.
AMCU said it called the strike after repeated calls for transport for members working night shifts had been ignored by Sibanye. AMCU claimed the workers were being attacked.
James Wellsted, a spokesman for Sibanye Gold, said at the time of the interdict that his company would not accept illegal behaviour by AMCU even though, as suggested, contestations with the union were likely to increase in the future given its dominance in the platinum sector into which Sibanye was moving.