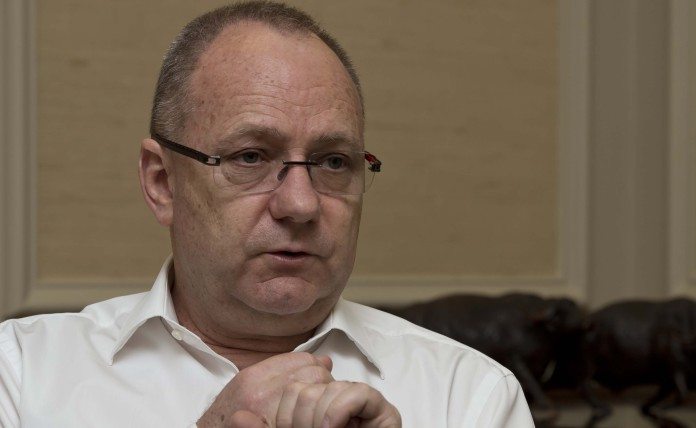 ESKOM, South Africa's power utility, would "have a voice" in the proposed sale of Anglo American's South African domestic coal mines, said Mark Cutifani, CEO of the UK-listed mining group.
"People know that in domestic coal the preference is for local ownership to be more than 50%," said Cutifani in an interview with Miningmx.
"Now in the end that's not at all a legislated requirement, but given that Eskom sits on the other side of the contracts, in the end, they are paying the money," he said. "So they do get to make a good part of the rules," he said.
Cutifani said his company was sympathetic to Molefe's views, but added that existing CSAs had to be honoured. "We will honour the contracts that we have with Eskom and we expect Eskom to honour its side of the deal, and thus far we've not had any issues," said Cutifani
Anglo supplies Eskom some 21.5 million tonnes a year from its South African mines whilst its export production made up the balance of 50.3 million tonnes in total production during the UK-listed group's 2015 financial year.
The Kriel, New Denmark and New Vaal mines comprise the bulk of domestic supply. The only other Eskom-only mine operated by Anglo is Mafube, shared in joint venture with Exxaro Resources, and Zibulo.
Cutifani's comments follow statements by Matshela Koko, Eskom's executive for group generation, in an article he wrote for Business Report in which he said that Eskom "technically" owns part or all of the coal mines Anglo wanted to sell.
"Eskom technically owns part of, if not the majority of, operating assets and the mining infrastructure, while Anglo owns the mining rights and some of the surface rights," he wrote.
Companies will "… need to engage in order to effect radical transformation through the potential new owners," Koko added. He even suggested that Anglo ought to cede its mining rights to a state-owned mining company.
Xavier Prevost, an analyst at XMP Consulting, told Bloomberg News that the sale process could last "as long as Eskom wants to take", but Cutifani said there had been progress.
"We started with 60 conversations and now we're down to a short list of six or seven, and so we're in conversation there," he said. The transactions could be concluded quickly, he added.

COAL SALE AGREEMENTS
Cutifani said his company had had discussions with Eskom regarding the nature of the coal sales agreements (CSAs) between the parties. The utility's CEO, Brian Molefe, has favoured a switch to a tender system.
Currently CSAs between owners of fixed cost mines and Eskom are based on long-dated contracts in which Eskom paid for the construction of the mine in return for security of supply at a percentage above the operating cost.
Lately, however, Molefe has said Eskom wants to move away from this system in favour of CSAs through competitive tender where Eskom is not required to finance the cost of the mine or a mine extension.
This was one reason why Exxaro Resources and Eskom were unable to extend the CSA from Arnot mine and Arnot power station as Eskom was not prepared to fund the expansion of Arnot mine..
"We've had debates about cost plus or capital because they'll say: 'Look, we don't like the cost plus capital; give us a fixed price'," he said.
"We've done that and they said: 'Well, we don't like the fixed price, we'll stick with the current contract'. We're okay with that," said Cutifani.
"But at the end of the day, if you're going to change the owner, they do get a say in terms of whether they would accept the new owner as a contract holder because of the nature of the contract, and they've invested in the market," he said.
Mark Cutifani was interviewed by Miningmx as part of The Mining Yearbook, a publication that is due to be distributed with Finweek on June 30 and published in Miningmx thereafter.