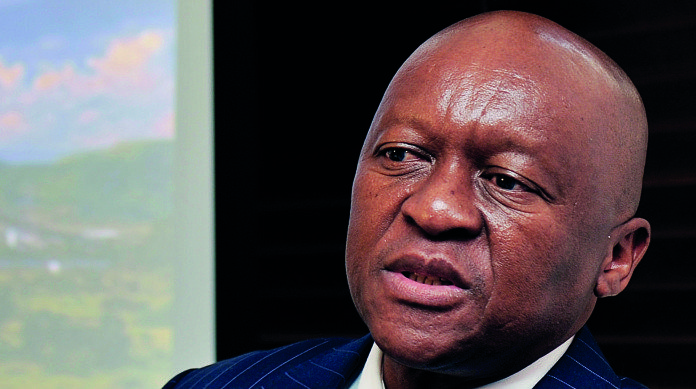 AFTER years of playing nicely, South Africa's mining sector has come out strongly against state capture and other forms of corruption in the country, most vocally through the barnstorming comments of AngloGold Ashanti chairman, Sipho Pityana.
His 'Save SA' may have embarrassed the ruling ANC as it seeks to argue against a credit rating downgrade, but in reality his criticism of President Jacob Zuma, who he has asked to resign, has shown South Africa to have a strong civil voice.
Neal Froneman, CEO of Sibanye Gold, has also stood out from the crowd in respect of voicing his opinion against the ANC even though it's generally thought that outspokeneness is met with behind-the-scenes sanctions in the form of ad hoc safety inspections by the Department of Mineral Resources (DMR) which can result in the closure of mines for minor infractions.
Less acknowledged, however, is Steve Phiri – a former lawyer and now CEO of Royal Bafokeng Platinum for the last five years. It was Phiri, for instance, who said in the company's 2014 financial report that a line had to be drawn in the sand regarding who was ultimately – constitutionally – responsible for the mining communities: the private sector or government.
At the time, RBPlat had just ploughed in R2.8bn in employee housing in the Rustenburg community and yet was also required to pay for the infrastructure as related to basic living standards.
A few months later, he then described corruption as South Africa's national sport. "Those trying to be clean are seen as stupid or obstructive, and they are removed," said Phiri some two years before Pityana spoke out on the subject.
Now, unreported comments in the company's annual report puts the boot into the over-zealous issuing of Section 54's by the DMR which compel mining firms to stop mining in terms of the Mines Health and Safety Act.
Said Phiri: "Contrary to our publicly declared acceptance and support in the past of the Section 54 stoppages in the interest of safety, we are unable to reiterate the same view with regard to these stoppages and we are very disappointed," he said.
RBPlat lost 17 production shifts at its North shaft operation following one Section 54 instruction, equal to a loss of 7,000 ounces of platinum group metals. As Phiri ups the ante on heavy-handed safety stoppages, this will be a case of 'watch this space'.
As Miningmx reported on November 13, the Labour Court has overruled a Section 54 issuance by the Department of Mineral Resources in favour of AngloGold Ashanti. It said the DMR was wrong to close the mine for infractions that had only occurred on one level of the mine.
You can download the Labour Court judgement here :- Anglogold Ashanti