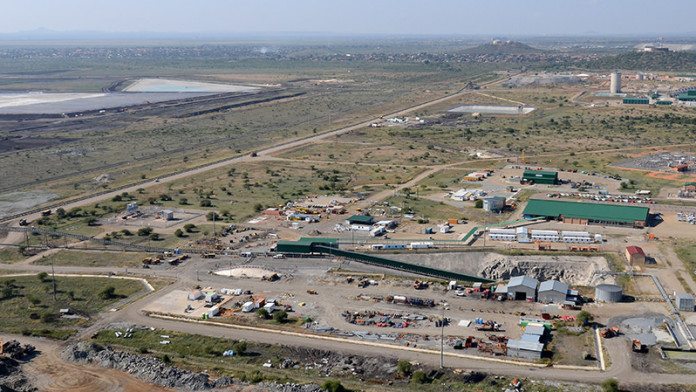 PLATINUM Group Metals (PTM) downgraded 2017 production at its Maseve mine and said there was a risk of strike activity at its milling operations amid a strategic review of alternatives at its assets.
The mine is now expected to produce 85,000 ounces of platinum, palladium, rhodium and gold – collectively known as 4E or four elements – down from the 100,000 oz previously forecast in January for the year.
Maseve, which is about 35km north of Rustenburg in South Africa's North West province, was designed for output of 250,000 oz 4E. Output was forecast to be 110,000 oz in its first year rising to 180,000 oz, but it has far undershot that ambition which has put PTM under financial pressure.
The Toronto-listed business also said in January it would issue 600,000 shares to Sprott Resource Lending Partnership and Liberty Metals & Mining Holdings in return for waivers on existing loan facilities and extensions of covenants.
PTM impaired Maseve for $41.4m last year following slower than anticipation production ramp-up. It subsequently replaced its then contractor with Redpath Mining Contractors & Engineers following the poor delivery of production ramp-up.
Commenting ahead of its second quarter figures, scheduled for April 14, the company said it was in discussions with BMO Capital Markets and Macquarie Capital "… to review and assess corporate and asset level strategic alternatives". It did not provide details of these discussions.
There is pressure throughout the organisation, however. Notwithstanding Maseve's highest production month in March of some 2,477 oz 4E in concentrate, a poor performance in January and February – which it put down to senior management changes, a change in the underground contractor and rainfall – has constrained working capital.
The Block 11 section of Maseve, which has been described as critical in Maseve achieving positive cash flow, is not yet at the 70% to 80% mine ore flow targets having achieved 59.8% in March (best ever). PTM did say, however, that the ore flow at Block 11 was trending positively.
It had also made in-roads on its cost structure taking a fifth of costs out of the system following a restructuring including axing redundant positions and other efforts of rationalisation.
Elsewhere, there is a risk of strike activity at its milling section after talks between its contractor Tailing Technology (TT) and the Association of Mineworkers & Construction Union (AMCU), which the contractor has recognised, dissolved despite the involvement of the Commission for Conciliation, Mediation and Arbitration (CCMA).
The CCMA subsequently granted AMCU a strike certificate on April 3, a development that enables the union to call members out on a legal strike. "TT advises the company that they are striving to find a solution and that they remain confident they will be able to run the Maseve mill and limit any potential disruptions if AMCU chooses to go on strike," said PTM.
The company issued shares for a total of $143m, or some R2bn, of which $73m worth was in public offerings during its 2016 financial year. It also amended facilities with shareholders were draw-downs were attached to production targets.
Some $143m was spent on the development, construction, equipment and other costs at the Maseve Mine while some $7.3m was also spent progressing its Waterberg platinum prospect.