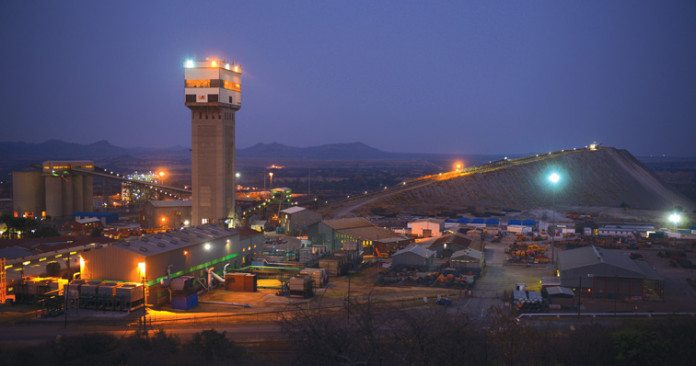 LONMIN was studying the feasibility of reopening shafts that could yield between 200,000 to 250,000 ounces a year of platinum group metals (PGM), roughly a third of current production.
Ben Magara, Lonmin CEO, said the new production would be a combination of growth and replacement ounces for exhausted resources elsewhere within the group's portfolio.
The projects – the mothballed K4 shaft near Rustenburg, and shafts in the Limpopo province – would provide "long-term production" if proved feasible, said Magara.
"Our immediate focus is being cash neutral," he said commenting on efforts to cut costs and preserve cash flow. Lonmin generated cash in March after losing money in the first four months of its financial year.
Lonmin put K4 on care and maintenance in 2012 cutting about 1,200 contract jobs in the process. The Limpopo assets, however, include Messina Platinum Mines which has been in and out of intensive care for many years with a string of mining firms attempting to bring it into profitable production.
Messina was incorporated into Lonmin's 'Limpopo division' along with a project known as Akanani – a venture that Lonmin once hoped could yield up about 600,000 PGM oz a year.
It sold a 26% stake in the project for R800m to Incwala Resources, Lonmin's empowerment partner at that time, but then brought the curtain down on the venture. It is down dip of Anglo American Platinum's highly lsuccessful Mogalakwena mine.
In 2011, Shanduka Group, which had taken out Incwala Resources, took up an option to buy Akanani. Magara said that option had no expired.
"Limpopo provides us with some optionality. The mining method is highly mechanised and would be very low cost at full production," he said.
The two projects would be seen as a blue sky addition to the Rowland, Saffy, K3, E3 and 4B shafts which comprise the foundation of Lonmin's current production which has been guided to between 650,000 to 680,000 oz for the 2017 financial year.
A write-down of $181m in the six months ended March contributed to a loss and cash outflow of $48m in the period for Lonmin, equal to 37.7 cents per share.
The write-down related to its tangible net worth covenant which Magara said was a function of a poor production performance in the first four months of the financial year. The covenant is part of the group's refinancing in 2015 and reflects the ongoing solvency of the business.
Magara said there was still plenty of headroom in the business and was heartened by its cash neutrality in March.
"Adverse changes in assumptions could impact on compliance with lending covenants and our disclosure in the accounts draws attention to this," the company said.