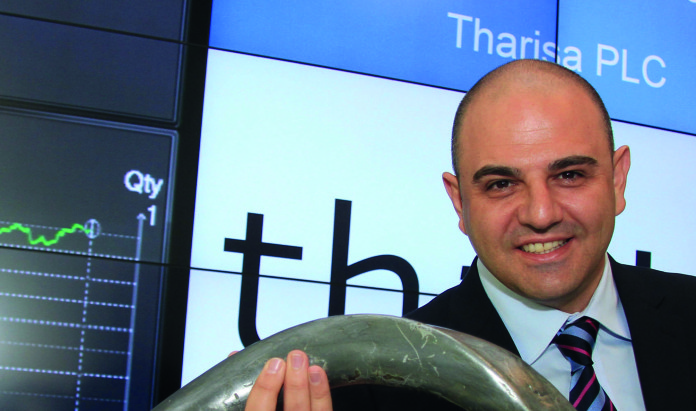 THE chrome price was forecast to further stabilise amid evidence that demand for the metal would remain strong, said Tharisa, the Johannesburg-listed platinum group metal (PGM) and chrome producer.
Commenting in its third quarter update, in which it built on the year's strong production numbers so far with new record chrome concentrate production, the company said liquidity had returned to the market.
The last 12 months have been volatile in the chrome market with prices racing off lows to $338 per tonne before correcting to $147/t. Tharisa said price stability had returned "Despite Chinese port stock levels of 2.46 million tonnes, liquidity has returned on the back of continued stainless steel demand and consumption out of China," it said.
"The fundamentals of the global stainless steel market remain sound with continued growth forecast in 2017, further supporting strong demand for chrome units in the form of ferrochrome and chrome ores," it added.
Speciality chrome concentrates, which comprised just over a quarter of Tharisa's third quarter production, continued to attract a premium over contracted metallurgical chrome concentrate prices.
In terms of production, Tharisa turned in a strong set of numbers with quarter-on-quarter chrome concentrate coming in at 333,900 tonnes, an increase of 6.1%. Speciality chrome concentrate output was about 15% higher.
PGM production was 35,400 ounces, an increase of 3.2% quarter-on-quarter, but basket prices continue to languish. The average per ounce PGM basket price for the three months was $792 (R10,443), about $9 higher than the $783 (R10,335) which was achieved in the March quarter.
Tharisa said PGM and chrome production was on track to meet guidance set down for the 2017 financial year of some 147,400 oz and 1.3 million tonnes respectively. Of chrome concentrate output, 300,000 tonnes would be specialist grade chrome concentrates, the company said.
"Tharisa Minerals has again shown incremental improvements in production volumes and recoveries," said Phoevos Pouroulis, in a statement to the Johannesburg Stock Exchange. "We continue to examine ways to further optimise our operations and look forward to achieving our targeted recoveries and production outlook for the financial year," he added.
Shares in Tharisa have fallen steeply, down 45% over the last three months after scaling a three-year high in February amid strong chrome prices.
Pouroulis told Miningmx in May that the challenge for his company is to prove it can be profitable "… throughout the cycle" and not just when the price of chrome goes crazy.
The company has bought the mining fleet of MCC Contracts Proprietary for $26.8m which would enable Tharisa to focus on quality mining compared to volume which is the metric on which contractors are incentivised, said Pouroulis.
He also suggested the company could improve on its 1 cent per share dividend in the current financial year. "We decided to pay a dividend to show we could be a company of yield. "We've had numerous discussions on the policy going forward and so we will reconsider it at year-end. It is an annual dividend so I definitely think there's room to improve," he said.