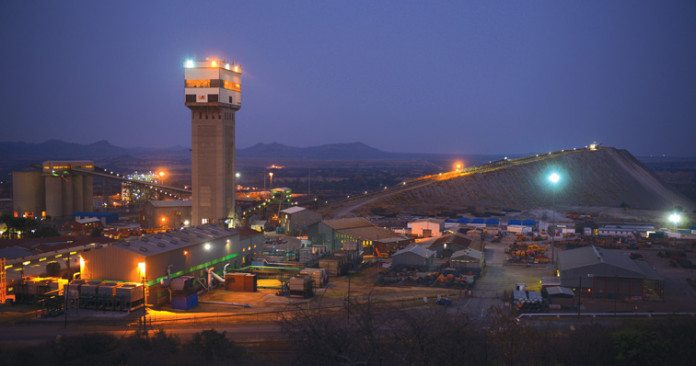 LONMIN has set out further steps aimed at turning cash flow positive after capital expenditure which includes a R500m reduction in overhead costs by the year-end and the sale of up to 500,000 ounces a year in processing capacity.
The company, which lifted net cash $11m at the end of the third quarter to $86m, also said it would seek funding partners for its MK2 Rowland shaft extension project as well as K4 and its Limpopo and Akanani greenfields projects.
This followed an ongoing operational review the immediate results of which would "… generate cash through the monetisation of select Lonmin assets and to preserve cash by reducing fixed costs".
Lonmin has some 1.2 million oz in smelter nameplate capacity at its Marikana facilities. It also has 1.5 million oz and two million oz in base metal refinery and precious metal refinery capacity respectively. It has targeted platinum sales of between 650,000 to 680,000 oz in the current financial year, hence the excess capacity.
Commenting on the planned reduction in overheads, the company said it was "too early to define the ultimate effect of the operational review on the company". However, job losses seem inevitable although these would be from central functions and not at its shafts where roughly 15% of its staff – some 6,000 people – were released by the company last year.
Lonmin is considered the most vulnerable of South Africa's PGM producers. It required a $407m recapitalisation in 2015 by means of a rights issue which was supported by the government-owned Public Investment Corporation in an effort to save the rights offer and to avoid the retrenchment of some 30,000 jobs employed in Rustenburg.
Goldman Sachs was sceptical the measures outlined by Lonmin would be a success. Selling excess processing capacity could release capital for Lonmin and also be beneficial for other PGM miners, it said. It cautioned though that Lonmin's ore-body was "… slightly different from other miners and as such the processing capacity would likely have to be tweaked to process other ores. This is possible but would require capex.
"Also, most of the platinum miners already have contracts with other companies to process their ore," it said.
JP Morgan Cazenove said the strategy might have the negative effect of possibly reducing carrying values, especially if assets were sold below book value. "In 2017 our published view has been that the most pressing risk to Lonmin's equity investment case is presented by its debt covenant for tangible net worth to be less than $1.1bn." it said.
"Net worth [at the half-year point] was $1.4bn and future carrying values could be impacted by asset sales above or below book value. At current PGM prices and currency exchange rates, we estimate Lonmin will be free cash flow negative in 2018 and estimate net debt of $231m at 30th Sept '18 [its year end]," said JP Morgan Cazenove.
Goldman Sachs said that selling green fields and expansionary projects requiring significant capital would most likely be tempered by the outlook for platinum fundamentals. Goldman Sachs is bearish on platinum because it believes the metal is in a market surplus.
Shares in Lonmin were 2.5% higher in the first few hours of trade on the Johannesburg Stock Exchange but over the past 30 days, the company has improved in market value by some 41%.