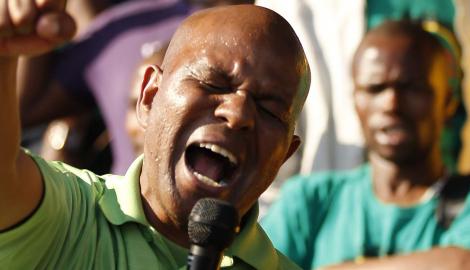 The Association of Mineworkers and Construction Union (AMCU) has attacked the proposed takeover of Lonmin by Sibanye-Stillwater threatening the kind of action in conjunction with local communities which Sibanye CEO Neal Froneman has flagged as a key threat to the deal.
AMCU is the recognized majority union at Lonmin. In a statement AMCU president Joseph Mathunjwa highlighted the fact that over the next three years 12,600 workers will be retrenched from Lonmin out of its total current workforce of 32,500.
Mathunjwa commented, "this will come on top of the 1,100 jobs that are currently being shed at Lonmin. With an unemployment rate of 27.7% this constitutes a nightmare for the workers of this country.
"As AMCU we shall treat this matter with the great urgency it deserves. We are going to consult our members and consider all options available to us including mass action backed up by all conceivable legal avenues to defend our members.
" In doing so, we are prepared to join forces with communities around Lonmin to ensure that the interests of mineworkers' mine-affected communities are defended. We want to warn the new owners and current shareholders that we will fight and not sit quietly as our members' future is destroyed."
In his presentation,  given at the JSE on Thursday,  Froneman effectively warned local communities and the Department of Mineral Resources to back off from putting pressure on Lonmin.  He highlighted a condition precedent in the takeover offer that there  must be; "no cancellation of any prospecting or mining right held by Lonmin, pursuant to Section 47 of the Minerals and Petroleum Resources Development Act  having a material adverse effect."
Mathunjwa said that all the gains made by AMCU at Lonmin "since the massacre"  at Marikana were now under threat and launched an all-out attack on the deal on ideological grounds.
He commented, "We know the new owners of Lonmin …………..will intensify the exploitation of workers at the expense of their welfare, health and safety. They will attempt to cut costs and this will mean job losses, casualisation and extreme forms of intimidation in an effort to extract greater profits.
"We have seen that the crisis in the mining sector is being used as an occasion to buy out the vulnerable at the expense of expanding production through new investment.  They will use their power in the economy resulting from their monopoly position to push their capitalist interests as if they represent the interests of society.
"So, for example, they will use their power in the economy to push for lower corporate taxes, weaker labour laws, weaker health and environmental regulations."