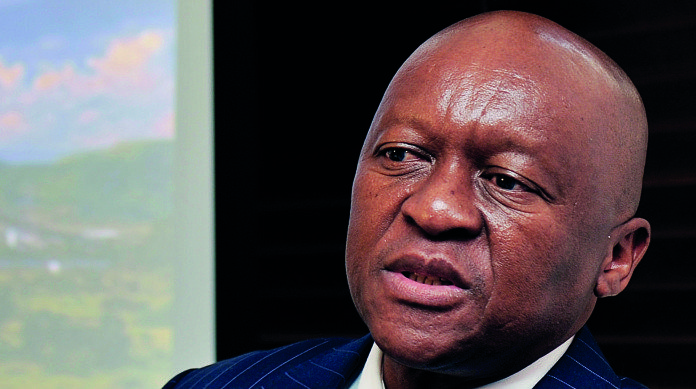 STEVE Phiri, CEO of Royal Bafokeng Platinum (RBPlat), delivered a less than fond farewell to former mines minister, Mosebenzi Zwane, saying at the firm's annual results today – which were much improved in the second half of the year – that he was happy to see the back of Zwane whom, he said, had single-handedly destroyed the industry.
"I am not ashamed to say that he over-stayed his welcome – if he had any. I am not unhappy to see his back," said Phiri who added that the company had been "harassed" in 2016 and 2017 by Zwane, largely through "regulatory instruments" – a reference to the redrafted Mining Charter which set down new regulations.
Whilst Phiri was commenting broadly, it cannot go unnoticed that RBPlat was negatively affected by a spate of Section 54 safety-related stoppages at the end of last year imposed by Zwane's Department of Mineral Resources (DMR). Whilst the section is important legislation as set down by the Mines Health and Safety Act (MHSA), it has also been used punitively in the past, according to industry allegations.
In the case of RBPlat, it had previously dispensed with the services of JIC Mining Services, a company owned by the Gupta family which was why it was attracting additional attention by the DMR over "safety incursions". The Gupta family are thought to have helped with the appointment of Zwane as mines minister. Zwane was previously the little-known MEC of agriculture in the Free State province.
Commenting on JCI Mining in its annual results statement, RBPlat said: "Despite the impact of restructuring of the business and the uncertainty around the future of the employees of Oakbay-linked Westdawn Investments, trading as JIC Mining Services, labour stability was not negatively impacted".
In an industry that until recently has fought shy of open conflict with the government, Phiri has long stood out as a vocal critic of the country's regulatory regime. In 2016, he said regarding safety-related stoppages that: "Contrary to our publicly declared acceptance and support in the past of the Section 54 stoppages in the interest of safety, we are unable to reiterate the same view with regard to these stoppages and we are very disappointed".
Previously in 2014, speaking at the Joburg Indaba conference, Phiri described corruption as South Africa's national sport. "Those trying to be clean are seen as stupid or obstructive, and they are removed," he said in a highly prescient observation. He said today that the appointment of Cyril Ramaphosa as president of South Africa, replacing Jacob Zuma, and a new mines minister in Gwede Mantashe, had changed the mood in the mining sector.
YEAR OF TWO HALVES
RBPlat's full year headline share earnings came in lower at 54.6 cents compared to the previous year's 86.7c/share. Had the business not restructured its South Shaft at Bafokeng Rasimone Platinum Mine (BPRM), however – a decision that saw employees reduced 60% in the section – the outcome would have been far worse.
"Without those savings we would have made a headline share earnings loss," said Martin Prinsloo, CFO for RBPlat. At the half-year point, RBPlat had recorded a 5.3 cents per share headline loss. "It was a typical year of two halves," he said.
Commented Phiri: "There were more reductions and more pain, and a smaller business". He added, however, that the outlook was improved, especially as RBPlat reached the end of its Styldrift I expansion which had sapped about R2bn in capex in 2017. The project will have cost the company about R10.5bn by the time it is completed. The company has a market value of some R6.8bn on the Johannesburg Stock Exchange.
The pressure of the project, undertaken amid a pedestrian dollar platinum price –  the rand basket was largely neutral as dollar gains offset the rand's strength – sent RBPlat to shareholders in the year, raising R1.2bn in a convertible bond. There is now R2.3bn left to complete Styldrift with less likelihood of having to return to lenders or the market again.
Including exceptional items such as the impairment of R864m in goodwill, described by Prinsloo as "a legacy from when we listed", and taking back a tax benefit in the 2016 financial year, RBPlat ended the year with headline share earnings of a positive 69c compared to 62c in the 2016 financial year. RBPlat's cash on hand of R1.3bn, largely owing to the convertible structure.
RBPlat has targeted production of metals in concentrate (4E) of 328,000 ounces in the current financial year and platinum in concentrate of 212,000 oz, an increase year-on-year of 7.9% and 8.2% respectively. When fully complete, the Styldrift expansion is planned to double the group's 4E metal in concentrate production to 600,000 oz.