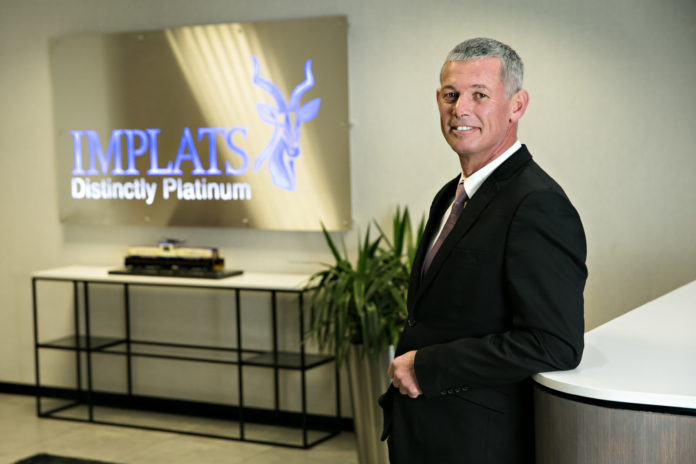 IMPALA Platinum (Implats) moved into net cash as of June 30 as improved metal pricing, higher platinum group metal (PGM) production from Rustenburg, and an inventory unlock enabled the group to pay off debt and, post period closure, trigger the early redemption of $250m in convertible bonds.
It was all about the market for Implats in the 12-months ended June, especially in rand terms. Dollar prices were 11% higher at some $2,237 per ounce (2018: US$2,023 oz), but following an 11% decline in the value of rand against the dollar, the locally denominated basket of metals came in at 22% higher for the year at R31,765 per oz (R25,935/oz).
Adjusting for the unlock of metals for inventory, the group unit cost per platinum ounce was R23,942/oz compared to R22,931/oz in the previous year. Post operating and capital expenditure the cost per platinum oz was R27,000/oz. Including the inventory unlock the cost performance was improved: Implats sold 57,000 oz from inventory worth R3.2bn in cash flow and a R400m gross profit.
Some 103,000 oz in platinum and associated metals remained in inventory, worth R4.3bn at current prices, which would be sold down in almost equal parts over the current and the 2021 financial years.
The outcome was a healthy boost in headline earnings of R3bn or some 423 cents/share which compares to a loss of R1.2bn in the 2018 financial year, equal to -171c/share. Free cash flow of R7.7bn was generated in the period enabling Implats to move into a net cash position of R1.1bn after paying R2.2bn in debt.
In July, the company announced the early settlement of $250m in convertible bonds that would have otherwise fallen due in 2022.
"Given an uncertain and volatile local and global economic outlook and the ongoing restructuring underway at Impala Rustenburg, the board resolved not to declare a dividend for the full year ended 30 June," the company said in notes to its published numbers.
Asked at a media conference for how he would manage the firm's capital allocation priorities this year, CEO, Nico Muller, said the resumption of dividends could be in the next 12 to 24 months depending on how global markets fared.
The group also wanted to "navigate" wage negotiations currently underway, as well as the restructuring of Rustenburg. There was also debt at non-managed operations such as at Marula. Choices over capital allocation was "a novel thing for us," Muller said.
Muller said Implats was also assessing putting cash into organic growth and replacement projects of in acquisitive growth. Asked for details, he said the Waterberg Joint Venture in which the firm bought a 15% beachhead in 2017 was an obvious choice.
"It is exactly the kind of orebody we favour," said Muller of its scale, depth and potential for mechanised production. A feasibility study is currently being concluded with an investment decision set for the first half of the 2020 calendar year.
FEATHER IN CAP
The results represent a feather-in-the-cap for Muller, who was appointed roughly two years ago with expectations high he would bring about restructuring of Implats' then loss-making Rustenburg (Impala Lease) operations.
Muller said today the company was about to start the second phase of Rustenburg restructuring having reduced the total labour complement by about 2,730 people of which about 117 have been retrenched. Two shafts have been closed.
The company said today it would embark on a second phase of restructuring that envisaged the closure or sale of two more shafts (No. 1 and No. 9). A section 189 notice in terms of the Labour Relations Act had been issued as of July.
By the time the restructuring process is complete in 2022 No. 12 and No. 14 shafts will have been closed or sold leaving Rustenburg with six operating shafts and staff of 27,000. In that time, the cost per platinum oz will have been lowered to less than R24,500 compared to R27,000 per oz in the 2018 financial year.
Wage negotiations with the Association of Mineworkers & Construction Union (AMCU) were moving peaceably and constructively, said Lee-Ann Samuel, head of human resources for Implats. "I am cautiously optimistic we will reach a conclusion by the end of September."
Commenting on the production outlook for the current year, Implats guided to unchanged refined platinum production of 1.45 to 1.55 million oz. "We will produce about 1.5 million oz of platinum for the foreseeable future," said Muller.