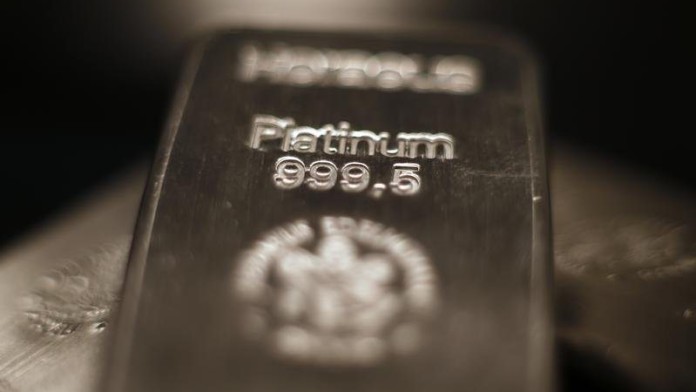 THE platinum market is expected to run into a 670,000 oz surplus in 2020 as record investment demand for the metal this year was unlikely to be repeated.
This is the view of the World Platinum Investment Council (WPIC) which said in its third quarterly update today that this year's market would largely be in balance.
This was after initially forecasting a 345,000 oz surplus for 2019 which was rubbed out by massive demand for platinum in exchange traded funds (ETF).
Demand for ETFs increased 12% for the year which offset demand decreases for platinum in automative applications, down 5% year-on-year and respective 6%, and 1% declines in the jewellery and industrial markets. Total supply growth increased 2% for the year owing mostly to the release of previously locked up material.
"Stellar investment demand performance is the highlight of 2019," said Paul Wilson, CEO of WPIC in a statement.
"The particularly strong investment demand in the first half of 2019 continued in Q3 and into Q4 with the increase in ETF holdings of one million oz the highest seen since physically backed platinum ETFs were launched in 2007," he said.
Commenting on prospects for next year, there would be a 10% decline in demand driven mostly by lower investment demand. Although above the five-year average, investment demand was "… not expected to include a repeat of this year's record ETF buying," said WPIC in its quarterly numbers.
AUTOCATALYSIS
WPIC's expectation for a surplus might be conservative, however. The forecast decline in automotive demand excluded potential higher diesel sales as automakers attempted to avoid CO² fines or for substitution of palladium with platinum in autocatalysts.
"We believe the sustained palladium price premium over platinum in 2019 (that has averaged $839/oz since the start of Q4) has increased the likelihood of early substitution becoming visible," it said.
This was a point supported by Northam Platinum CEO, Paul Dunne, today who said platinum was "as cheap as chips". When the price of the two metals was the same, there could be little economic value to substitution, but now palladium was worth twice the platinum price, he said. Palladium was trading at $1,741/oz against platinum at $915/oz.
Dunne added, however, that engineering substitution for palladium autocatalysts was challenging for gasoline powered engines. "Today's gasoline cars run very hot and so the technology has to be developed for platinum autocatalysts to deal with this," he said. Eventually, however, the engineering would happen. The likes of BASF were working on potential substitution technologies," he said. "It is happening."
The WPIC hit the news yesterday following a report by BusinessLive that said Sibanye-Stillwater was cancelling its membership on the basis that it was not in agreement with the council's strategy. Anglo American Platinum said it remained committed to the WPIC – a view supported by Dunne.
"The budget has been withdrawn and we are in support," said Dunne.
The WPIC said interest in platinum investment had become more widespread. "In 2019 we have observed a growing number of large macro funds, already using gold as an alternative to the $13 trillion of negative yielding debt globally, also including exposure to platinum," it said.