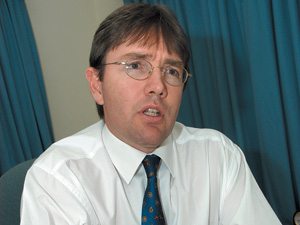 [miningmx.com] – WHILE platinum and its other group metals grapple with current price weaknesses and market difficulties, it can be all-too easy to overlook the metals' longer-term prospects in this world of rapid technological advance. In my view, platinum group metals (PGMs) are the unchallenged metals of the future.
Let's start with their contribution to "greening' the environment.
I am not going to comment on the fracas surrounding the Volkswagen's issue. What I would like to remind everyone of is that – on average and because of PGM catalytic converters – emissions from 100 cars sold in 2015 are the equivalent of one car sold in the 1960s.
PGM vehicle emission catalysts are so successful that they convert 99% of combustion engine pollutants such as HC, CO, NOx and particulates to harmless outputs.
Another example is the fact that real life tests of NOx emissions in the new Euro VI buses in London are fitted with platinum catalysts that are only 5% of those of their predecessor vehicles. And in the European chemicals industry, fertilizer production has seen nitrous oxide emissions cut by 90% with the simple retro-fitting of PGM-based catalysts to existing plants.
And, as we move to into the future and a clean hydrogen-powered economy, PGMs, and platinum in particular, will be in the cores of stationary and mobile fuel cells.
The Chamber [of Mines of South Africa] itself has installed a 100kW baseload platinum fuel cell which has been running well since the December 18.
Fuel cell electric vehicles now have comparable ranges to conventional vehicles (>600 kms) and only a three minute filling time (compares to 100km range for a pure electric vehicle and 3-9 hour charging time for the batteries) and which emits no pollutants during driving.
These FCEV's, like the Toyota Mirai are now being sold in Japan and California and could revolutionise automotive travel. The Mirai can also be used as a back-up generator for home use (during load-shedding).
These technological considerations alone could be sufficient reason for long-term investment in South Africa's platinum mining sector, riding out the market cycles.
But there is more, with respected observers such as the World Economic Forum ranking South Africa highly as an investment destination.
We in South Africa are fortunate to have world-class legal, financial and investment-protection structures. But we have to face up to some of our ranking challenges – primary education, crime, bureaucratic and regulatory uncertainties and labour inflexibility – when set against other emerging economies.
Beyond this there are the challenges of rising electricity tariffs, power constraints and instability in the labour market as unions contest with each other for members and position.
OPERATION PHAKISA
While the platinum sector has not escaped these challenges, it has risen to the occasion – aiming towards cost-effective production.
Over the next decade the sector will see a move towards new generation mining which will ensure the long term sustainability of the industry, while also greatly contributing to greening the economy and to economic development in South Africa.
There is, of course, further to go towards the creation of an optimal environment for a progressively growing mining sector.
Progress must and will be based on trusting partnerships between labour, government, communities and employers that recognise that all stakeholders' expectations have merit. The alternative, of one stakeholder being unfairly favoured over another, would be simply unsustainable for anything more than a short while.
There are mechanisms for thrashing out the procedures for addressing the industry's challenges.
One such forum is government's Mining Phakisa a discussion forum driven by the Presidency and joining together all players to devise an action plan for growth and transformation which encourages investment. In addition the stakeholders will continue to work together in MIGDETT (Mining Industry Growth, Development and Transformation Task Team) which includes specific PGM sector initiatives.
Solid progress is being made in the field of policy challenges – by the Davis Tax Commission's tax recommendations for mining operations; through the MPRDA Amendment Bill expected to be completed by this year's end; by more considered implementation of Section 54 safety stoppages; and the creation of a single system for environmental licensing.
Everything, too, can draw on the progress of current infrastructure construction and labour relations initiatives – led by government in collaboration with the state, employee representatives and mining companies.
As I have said, we still have a way to go. But I remain convinced that when all is drawn together, an undeniable case can be made for investment in South Africa's platinum sector.
Roger Baxter is CEO of the Chamber of Mines of South Africa