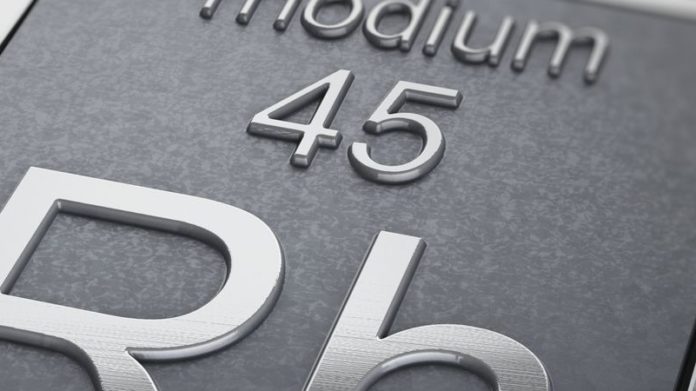 THIS report is unique and different from other market reports on rhodium in so far as it estimates the quantum of above-ground rhodium stocks. I am of the opinion that the reported stock balances cannot be sufficiently explained without an understanding of the quantum of above-ground stocks.
Research provides historical trends and estimates of vaulted above-ground rhodium stocks globally and by region between 1993 and 2018 for China, North America, Japan, Europe and the Rest of the World. Furthermore, the report differentiates between vaulted above-ground stocks and industry above-ground stocks (stocks held by refineries, industry, vehicle manufacturers, financial institutions and private investors).
Rhodium stocks are finite. The supply of rhodium depends heavily on the South African PGM industry which supplies c 82% of global production (JM). The bulk, c. 85%, of demand for rhodium is used in vehicle catalytic converters for the reduction of the oxides of nitrogen in exhaust emissions. Rhodium is the most effective catalyst for the conversion and reduction of the oxides of nitrogen, there is no substitute.
This review provides an insight into the future supply and demand of rhodium in an environment of a decline in supply and an increase in demand, and their combined impact on the price of rhodium.
The demand for rhodium is set to take a 10% step change upward with the adoption of China 6 emission standards. JM also expects rhodium autocatalyst loadings to increase in other regions to comply with more stringent vehicle emission and testing standards. The tighter heavy-duty emission regulations and testing standards are scheduled to be implemented between 2019 and 2024. These standards will apply in major vehicle markets.
A number of key questions arise in this scenario, such as: Where will this additional quantum of metal come from? What will the supply-and-demand dynamics look like? What quantum, if any, will the market balance deficit be? What will the effect on autocatalyst rhodium demand be as the auto industry transition from ICEs to EVs and HEVs gains traction? And, most importantly, what impact will the answers to these questions have on the price of rhodium? This report aims to provide substantive answers to these questions.
The price of rhodium has been extremely volatile since the 1970s, exhibiting three major upward movements. which occurred around 1990, 2000 and 2008 peaking at $7,000/oz, $2,400/oz and $10,100/oz respectively.
I argue, in this review that a fourth major upward movement in the rhodium price is currently underway supported by the combination of a number of market indicators characterised by strong consumer demand and tight physical availability, coupled with a continuous supply and demand market balance deficit going forward. Furthermore, and most importantly, an upward movement in the rhodium price would be precipitated by a continuous sharp decline in the vaulted above-ground rhodium stocks.
I am of the view that the vaulted above-ground rhodium stocks will continue to decline at a pace as the demand for the metal increases, which, in turn, will tighten physical availability and result in upward pressure on the price.
THE QUANTUM OF VAULTED ABOVE-GROUND RHODIUM STOCKS IS FINITE AND, IN MY VIEW, THE DRAWDOWN OF THESE STOCKS HAS ENTERED A "TIME-LIMITED ZONE" AND WILL LIKELY "RUN ON EMPTY" WITHIN TWO TO THREE YEARS (2022 TO 2023) CETERIS PARIBUS.
It is important to differentiate between vaulted above-ground stocks and stocks held by refineries, the industry, auto manufacturers and financial institutions, which from now on will be referred to as "industry stocks". It is clear that these markets play a large part by buying vaulted above-ground stocks to bolster their strategic and working inventory of rhodium, given its scarcity. I contend that the quantum of industry stocks is large and will likely be able to top-up demand at a price. It is important to note that industry stocks are also finite.
Turning to the supply-and-demand fundamentals of rhodium going forward: I am of the view, that it is important to "assess the impact" and get a "sense" of the quantum of the additional supply of rhodium that will likely be required by 2025 to satisfy autocatalyst demand ceteris paribus. In this regard, I present a series of forward-looking assumptions regarding primary and secondary supply and discuss the risks associated with each of them. In this respect and taking into account age cycle profiling of end-of-life vehicles and resource pool availability of rhodium, I am of the opinion that secondary recycling supply will likely only feel the impact of an increase in demand for rhodium after 2025.
Throughout this discussion, I have alluded to a number of market factors that will put upward pressure on the price of rhodium, however, the global economic environment will be a factor in this regard.
---
To learn more about this unique report and table of contents contact [email protected]
About Dr David Davis PhD MSc MBL CEng CChem FIMMM FSAIMM FRIC
David has been associated with the South African mining industry and mining investment industry for the past 43 years (mainly PGM, gold and uranium). At present, David is working as an independent precious metal consultant.