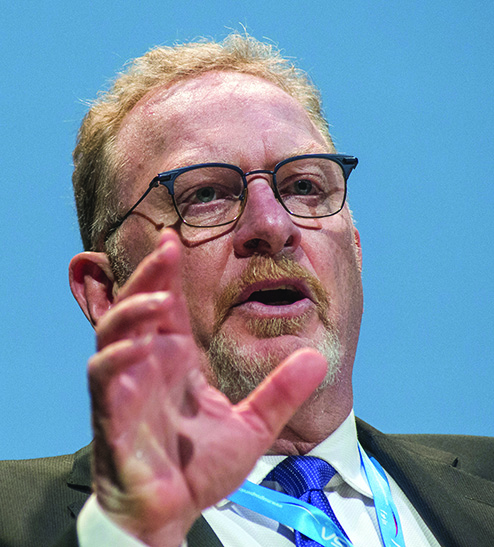 Clive

Johnson
President and CEO: B2Gold
'There may be another Fekola so the potential to produce one million ounces of gold annually from two mills, in our mind, is very real'
IN September, Clive Johnson's B2Gold completed the A$91.3m cash and shares purchase of Australian firm Oklo Resources. The transaction adds "extensive land packages" to Fekola, B2Gold's Mali mine for which Johnson has some major plans. These involve construction of a second $250m mill on the nearby Anaconda property, taking Fekola's annual production to 800,000oz from 570,000oz — 600,000oz/year currently. This could be achieved as early as 2026. Additional land packages are also being added to Fekola that could take total mine output to one million oz annually.
All things being equal, this would propel B2Gold's total output to about 1.5 million oz/year, landing it in the major league. Johnson, ebullient, outspoken and bold, has also set down plans for investment in junior mining companies of around $10m/year with a view to creating fresh options, although he complains about the stubbornness of rival executives who he thinks put their careers before shareholders by failing to agree to his overtures.
One area yet to be filled in by Johnson is plans he may have for Zimbabwe. In the last edition of Rainmakers & Potstirrers, he suggested the southern African country offered potential. If that sounds risky, consider his approach to Mali's coup-within-a-coup in 2021. Johnson says the situation is manageable as such events in West African terms often result in a bloodless change in 'head office' while the rest of the country buzzes along uninterrupted. There's less patience for B2Gold's JV in Gramalote, a $800m prospect in Colombia. It's up for sale after the partners sought to optimise the deposit but failed to find sufficient gold or plot a new engineering course that could make it work for them.
Asked for his view on possible retirement, Johnson was dismissive: "If the company was going to settle at one million ounce a year producer I might consider stepping down, but that is not the case."
LIFE OF CLIVE
Johnson established his reputation with Bema Gold, which was bought by Kinross in 2007 for C$3.5bn. He then regrouped with former Bema colleagues to establish B2Gold, which embarked on an aggressive acquisition strategy, culminating in the $570m purchase of Papillon Resources in 2014. Interestingly for a Canadian, he played rugby union and occasionally takes a robust approach to critical analysts. In 2021, he sanctioned the company's initiative to use proceeds from specially minted 'Rhino gold bars' to protect the critically endangered black rhino population in Namibia, where B2Gold runs the Otjikoto mine.
More Rainmakers & Potstirrers