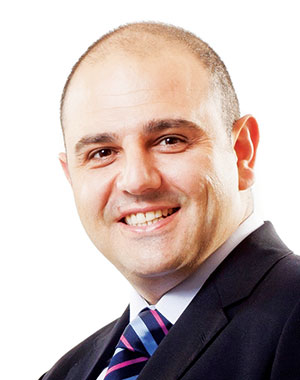 Phoevos

Pouroulis
CEO: Tharisa Minerals
'We have a tier-one project that is robust, with world-class economics'
AFTER years of talking and – dare one say – stalling, Phoevos Pouroulis last year finally pushed the button on the Karo Platinum Project in Zimbabwe. Tharisa first bought a controlling interest in Karo Mining Holdings, which controls Karo, by exercising a farm-in option for $27m in Tharisa shares. Tharisa now owns 70% of Karo Mining Holdings, which, in turn, owns 85% of the Karo mine. The other 15% stake in the mine is owned by the Zimbabwe government on a free-funded carry basis.
Construction started on July 1 last year and the design and construction schedule is forecast at 24 months, with the first ore in the mill (FOIM) planned for July 2024. The cost of the project has been increased to $391m FOIM from $250m previously. In December Tharisa raised $31.8m (the stretch target was to raise $50m) through a private bond issue for Karo, with the bonds to be listed on the Victoria Falls Stock Exchange. The mine specifications have also been changed, with production now targeting 194,000 ounces of platinum group metals (PGMs) annually instead of 150,000oz/year previously, while the life of mine (LOM) of the open-pit operation was reduced by three years to 17 years.
Pouroulis is gung ho over the project, declaring that Karo will "consolidate Tharisa as one of the world's most forward-thinking and low-cost producers of PGMS in Africa". Let's hope he's right because the major beneficiary of this project after the Tharisa shareholders would be Zimbabwe, where the government has been looking for a further economic boost from PGMs for more than a decade. The project also takes Tharisa's total PGM output to a little short of 400,000oz/year, which gives it a meaningful presence in the industry. Elswehere in the business, Pouroulis is hoping the Vulcan concentrator can bring about a much-needed rand cost reduction for its chrome output.
LIFE OF PHOEVOS
He's the youngest son of Loucas Pouroulis – one of South Africa's best known mining entrepreneurs – who had tried his own hand at the platinum game back in the late 1980s, developing the ill-fated Lefkochrysos Platinum mine near Brits. Phoevos Pouroulis holds a bachelor's degree in science and business administration from Boston University and has been involved in the South African mining sector since 2003. He served as commercial director for Chromex Mining and was a founding member of coal producer Keaton Energy. He sits on the council of the International Chrome Development Association. Tharisa is headquartered in Cyprus, which is where the Pouroulis family originally came from.
More Rainmakers & Potstirrers