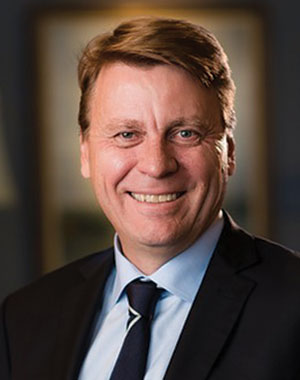 Tom

Palmer
CEO: Newmont Mining
'The gold [at Ahafo North] is not going anywhere. What we need is patience'
ACCESS to land has been identified as one of the key factors holding back the battery vehicle minerals and metals production required to contain global warming to 1.5oC as per the 2015 Paris Agreement. And it's a pressure from which no miner is exempt, not even the world's largest gold miner. Tom Palmer's Newmont Mining warned investors in its third-quarter conference that discussions over accessing land could result in a 15% capital cost increase to the group's proposed $750m — $850m Ahafo North expansion in Ghana.
Aimed at adding between 275,000 to 325,000 ounces a year to the group's six million oz annual production, the project is also still negotiating payments to landowners and farmers. Palmer said demolition work and other items such as fishing pond removals were 75% complete, but first production is now expected from mid-2025. "If you want to go fast, go alone; if you want to go far, go together," said Palmer, citing an well-used pearl of African wisdom. "We intend to go far," he said, adding that completion of land clearance was expected by the first quarter.
Less clear at the time of writing is what Ghana's vice president intended by reportedly issuing a demand that gold producers within the country's borders pay 20% of gold production to its central bank to fund oil purchases. The government may be concerned about its shrinking gold output, which slid 30% in 2021. Gold producers in Ghana are yet to receive formal notification, but central bank sales do occur under the current domestic gold-purchasing programme, to which Newmont sold 3,500oz in June last year. An expansion of this agreement could cause major friction. Newmont also operates Ghana's Akyem mine, which produces about 400,000oz/year.
LIFE OF TOM
Palmer is an engineer by profession, holding a Bachelor of Engineering degree and a Master of Engineering Science degree from Monash University in Melbourne, Australia. Before joining Newmont, he spent 20 years with Rio Tinto, where he became COO at the group's Pilbara iron ore mines in Western Australia. Prior to that, Palmer held a number of positions with Rio Tinto, including GM Technology for the bauxite and alumina business; GM Operations at the Hail Creek coal mine; and GM Asset Management at Palabora Copper in South Africa. He served in various senior vice-president positions after joining Newmont and before being appointed COO in May 2016.
More Rainmakers & Potstirrers