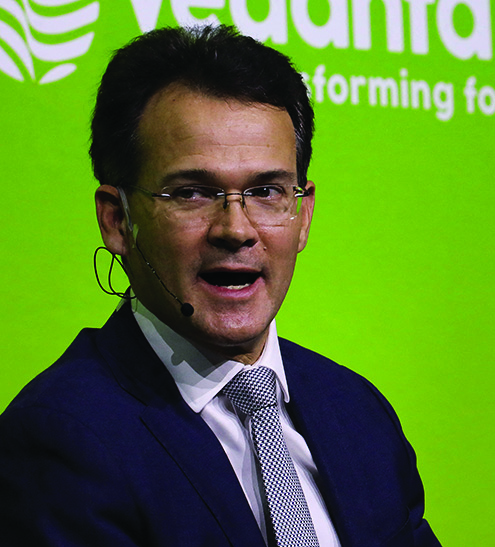 Sean

Gilbertson
CEO: Gemfields Group
'

We are very much graduating from a junior miner to a mid-level miner both in terms of scale of mining and revenues'
THE tide has turned in Gemfields' favour, after a torrid Covid period, and Gilbertson and his team are happy to reward shareholders handsomely. The 2022 interim dividend and share buyback programme arrived hard on the heels of Gemfields' maiden year-end dividend for 2021, reflecting higher production and better auction prices of rubies and emeralds. This generosity should sit well with Assore, which recently became a major shareholder in Gemfields.
While Gemfields is able and willing to pay dividends, Sean Gilbertson still has a long list of challenges and frustrations on the path to expanding operations. Problems go with Gemfields having interests in poor and often politically unstable countries: Mozambique, Zambia, Ethiopia and Madagascar.
In October, staff from the Montepuez ruby mine in Mozambique had to be evacuated temporarily because of rebel activity in the area, and although operations have resumed, the rebels are unlikely to go away permanently. Gemfields' gold exploration project, Nairoto in Mozambique, is proceeding, but exploration in Ethiopia and Madagascar has been on hold. At the Eastern Ruby Mining concession in Mozambique, where Gemfields intends to start bulk sampling operations in 2023, a police contingent is on guard.
In South Africa, Gilbertson is unable to shake free of Gemfields' 6.54% stake in Sedibelo Platinum, which has been up for disposal ever since Gemfields inherited it from Pallinghurst. Gemfields could exit when Sedibelo lists, but that listing was deferred again in 2022 after a downturn in platinum group metal prices, together with community unrest and Section 54 stoppages. Sedibelo is probably a minor irritation for Gilbertson, whose main priorities are to ramp up output and revenue from Kagem and Montepuez and ensure Gemfields' share price reflects its underlying value.
LIFE OF SEAN
Although his appointment to head Gemfields in 2017 was because his father Brian Gilbertson's investment company, Pallinghurst Resources, bought a stake in the company, Sean Gilbertson has firmly established himself as a mining leader in his own right. He holds all the right qualifications – a degree in mining engineering from Wits University and experience in project finance. He is also an entrepreneur who has started two successful trading businesses. Apart from gemstones, his passions are cycling and the outdoors, and he has given generously to help protect rhinos against poaching.
More Rainmakers & Potstirrers