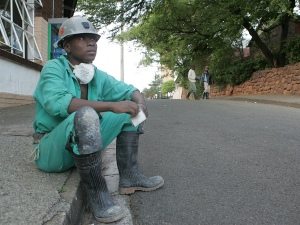 IT has been a difficult year for the mining industry insofar as health and safety has been concerned, but the tide is turning for a large number of mineworkers and their families who are set to receive compensation for silicosis.
In March this year, some 4,365 claimants who sued Anglo American SA and AngloGold Ashanti for the lung diseases silicosis and silico-tuberculosis, reached a landmark settlement with the two mining companies.
In accordance with the settlement, a compensation amount of R454m will be paid to the Qhubeka Trust for distribution among the claimants who meet the criteria for payment. This was the first large-scale settlement of silicosis litigation in South Africa.
In a different case, the South Gauteng High Court ruled in favour of mineworkers who intend on launching a silicosis class action against mining companies. There will be two classes – one for silicosis and another for tuberculosis.
On 13 May this year, the case was granted a class action certification which will make it the largest class action ever to be certified in South Africa, allowing hundreds of thousands of gold miners and their families to seek redress against gold mining companies.
Despite the high prevalence of lung diseases in the industry the statistics show a decrease in the number of occupational illnesses. Nationally, the rate of silicosis cases decreased by 24%, while incidences of silico-tuberculosis fell by 27%.
As far as safety is concerned, there has been an increase in the number of fatalities at mines in the first five months of the year, compared to the corresponding period in 2015. At the time of going to print 30 mineworkers have lost their lives so far, compared to 27 at the same time last year.
In January this year, four mineworkers died in an underground fire at Impala Platinum Mine in Rustenburg and in May another worker died at the same mine, following a fall of ground accident.
Mines minister Mosebenzi Zwane, who visited the mine after the incident, told management that his ministry would leave no stone unturned in finding out what had caused the fatal accidents at the mine.
At Lily Mine near Barberton' Mpumalanga' a shaft collapsed in February trapping 76 mineworkers' some of them who were later brought to the surface. Rescue efforts for the remainder of workers are still ongoing three months on.
In reaction to the mine fatalities, non-profit organisation the Bench Marks Foundation, said in a press statement the high prevalence of accidents is a matter of "profits trumping human rights".
It alleged that fatalities increase due to mines' high levels of dependency on sub-contracting, outsourcing and labour broking and claimed that training was conducted "after shifts when workers are tired and unable to concentrate".
But Kate Collier, a partner in the Employment & Employe Benefits Practice at Webber Wentzel, refutes these claims. "I would, with respect to these non-profit organisations, disagree with this as a generalisation."
She said mining companies who make use of the services of contracted or outsourced personnel provide the same safety training to these workers.
She also disagrees with the assertion that training is taking place after hours. "I certainly have not come across this. In my experience training is done over a number of days and comprises part of an employee's working day."