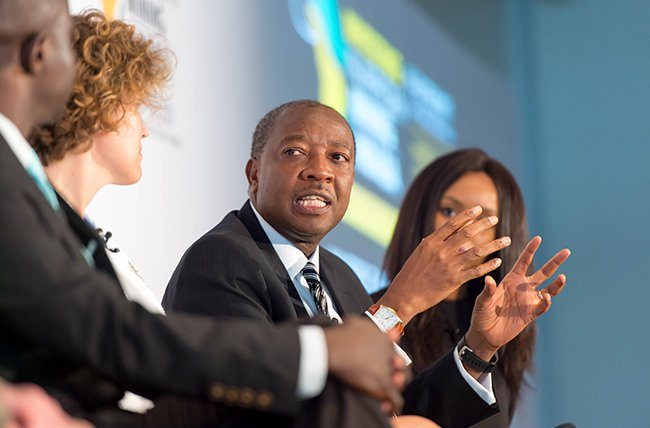 TWENTY years ago, in a tightly packed auditorium at Anglo American, the group's financial results ended in banner fashion. After months of speculation, the auditorium doors sprang open and in walked Mzi Khumalo, the head of African Mining Group, which had just taken a 34% stake in Anglo's JCI.
Julian Ogilvie Thompson, CEO of Anglo American, was beaming from ear to ear; camera flashes erupting around the room, even the BBC was there to witness South Africa's first major black economic empowerment (BEE) transaction.
Speaking later to the Mail & Guardian , Khumalo – a former Robben Island inmate who had served time with Nelson Mandela – declared a new era in South African industry was underway. There was no time to waste: "There's no rest for the wicked," he declared.
As corporate history records, the JCI deal was a pretty inglorious way to begin the transformation of South African mining. Khumalo was soon joined by Brett Kebble at JCI and the odyssey of misrule that then unfolded has been rich pickings for many-an-article, book, and even a couple of documentaries.
For Anglo, these are the risks of its front-line company status. The group subsequently followed the JCI transaction by helping create two of South Africa's most successful BEE groups yet in Kumba Iron Ore and Exxaro Resources. It also pioneered transformation in mining procurement as well as small business creation through its Zimele scheme.
It's generally not recognised that there was no Mining Charter during the time Anglo was taking its first steps into empowerment. There was, however, a White Paper titled: 'A Minerals and Mining Policy for South Africa'. Published in 1998, it is now described by Anglo American South Africa deputy chairman, Norman Mbazima, as a document to which the country should consider returning.
Commenting in an interview, Mbazima said that White Paper would be a good reference point from which to anchor a 10- to 15-year retrospective of empowerment in South African mining. "Our view has been that we should do a much better review of what has happened in the 10 years of charters and contrast that with what our original objectives were as set out in the 1998 White Paper, which I read again recently," he said.
"It was a fantastic paper. It put forward the views of government, the views of industry, the views of labour, and the views of any other parties. It then said that taking these views into account, this is what the DMR [Department of Mineral Resources] would like to take forward. I'd like to go back to that and ask whether these objectives were good or bad?
"In most instances, I could say without any fear of contradiction, they were very good.
"All right, maybe we need to tweak one or two of those objectives, but you could then ask: 'What went wrong, what went right, and why?' And 'does it fit in with the raising of capital or raising of funding, or looking after communities or employees who were not specifically mentioned at that point in time?' Then say: 'What do we need to do?' And in that: 'What does good look like?'
Mbazima's comments were made in the context of rapidly unravelling of regulatory confidence in South Africa's mining sector. At the time of writing, in the last week of July, the Chamber of Mines had launched a second legal process against the DMR and its minister, Mosebenzi Zwane, following publication of a notice in the Government Gazette on July 18 that put a stop to new prospecting and mining transactions.
The purpose of this appears to be an exercise of authority by Zwane who had earlier seen the Chamber apply to the High Court interdict his June 15 Mining Charter redraft – a document the Chamber dismissed as "egregious" in the negative consequences it bequeathed to investment in the mining sector.
Although events are moving at pace in the sector, especially as Zwane, the DMR and the Chamber of Mines face one another down, there seems to be a general recognition in parts of government and the African National Congress that the Mining Charter redraft will not pass legal muster. A process of renegotiation seems inevitable.
Set against this likelihood, the Chamber of Mines appears to be reaching for a different kind of solution to transformation in the sector, one to which Mbazima was happy to comment upon: "If you are an investor today and you want to invest in the mining industry, and you say: 'Okay, I've got a Charter here that says 26% [ownership target], and, by the way, I've got another one here that says 30%, what should I take into account: 40% or 50%? Where's it going?'".
His preference, and one which appears to be echoed in the halls of the Chamber, is to build a Mining Charter that doesn't quite work like a charter at all; where there's less dogmatism or orthodoxy about how economic transformation is constituted; less tick boxes and more invention akin to the ethos of the original Mining Charter of 2002 which took a large part of its thinking from the 1998 White Paper. At the time, it was called 'the spirit of the charter'.
"You've got to look at the variety of ways of achieving empowerment. One of the things that we started talking about was that even ownership empowerment can't be a one-size-fits all. You've got to look at what works for this asset, and what works for that. How can empowerment best be achieved when we look at this asset the way it is," he said.
This is a view that has been articulated by Mbazima's colleague at Anglo, Andile Sangqu, executive head of Anglo American South Africa and a vice-president of the Chamber of Mines. Speaking at the Chamber's annual general meeting in May, Sangqu said: "We should not be chasing targets, but thinking about the end stage of what a transformed society should look like. We should have an end-game in mind so we are working towards something that is clear and well articulated".
The creeping aspect of ownership as per the Mining Charter redraft, which asks for 30% ownership empowerment, is a concern for industry because it doesn't set a line in the sand that the long-term nature of mining investment would require for economic stability.
There's another reason for wanting flex in the regulatory order, according to Mbazima. And that's the volatile nature of the commodity market which has, in turn, proved to be the bottom line factor in deciding which empowerment transactions worked, and which didn't.
"The most important thing about all those deals that were done is how the underlying assets performed since the deal was done. And there's a bit of an ethos that says if you do an empowerment deal, the underlying assets must always perform well.
"That just doesn't happen in real life," said Mbazima. "The underlying assets can do really well, as in Kumba [of which Mbazima was once CEO], or they can do really quite badly [as in Khumalo's JCI]. And how they perform then affects how the deal is seen with hindsight."