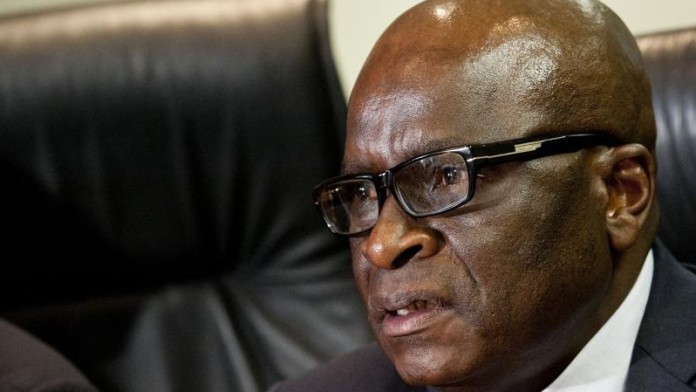 FORMER South African mines minister, Ngoako Ramatlhodi, ignored his own legal team's advice by rejecting an appeal by Aquila Steel aimed at securing its prospecting rights to a manganese-bearing property in the Northern Cape.
This is among the findings of a High Court judgement, delivered in November, which supported Aquila's claims to prospecting and mining licences, and laid bare the questionable tactics of Department of Mineral Resources (DMR).
High Court (Pretoria) Judge NB Tuchten also said that Ramatlhodi allowed the appeal to "drag on for years" whilst his department attempted to strengthen the merits of its own cross-appeal against Aquila's applications.
Importantly, however, Judge Tuchten said "institutional bias" had not been established, but he found that the DMR had demonstrated "institutional incompetence" in the matter.
It should also be noted that Aquila's appeal was launched whilst Susan Shabangu was mines minister, a position she occupied from 2009 to 2014. Ramalthodi was appointed in May, 2014 before he was replaced by Mosebenzi Zwane in September, 2015.
In 2005, a company called Ziza, in which the governments of Zimbabwe and Zambia had an interest, filed a prospecting application with the DMR's Kimberley office over thousands of hectares of property of which some was in the Northern Cape.
But the application was incomplete: it lacked "coordinated maps", and there was no evidence Ziza had the finances to seriously prospect the properties, the Judge said.
Instead of rejecting the application within the 14-day period allowed for such an assessment, the DMR eventually resolved it had no other option but to accept it – a decision Judge Tuchten said was irrational.
The prospecting right was left pending for years and not granted until 2008. However, it was registered in the name of Pan African Mining Development Corporation (PAMDC), a company created in 2007.
Judge Tuchten found that the only purpose of Ziza applying for the prospecting right was so that it could be transferred to PADMC. He added, however, that "… PAMDC had never applied for a prospecting right".
"It is not in dispute that the registration of the right in the name of PAMDC was irregular and should never have been affected," he said in his judgement.
So the outcome was that the prospecting application had not only been wrongly accepted in 2005, but it also could not be granted to PADMC in 2008.
In the meantime, Aquila Resources, then an Australian-listed junior mining company, had in 2007 successfully applied for a prospecting right over some of the properties erroneously granted to PAMDC.
By 2010, Ziza was dissolved and deregistered with its backers apparently confident the prospecting rights had been transferred to PAMDC.
From around this time – October 2008 – Thibedi Ramontja was chairman and a director of PADMC, a position he held until a month before being appointed director-general of the DMR.
By 19 November, 2011 – a month after Ramontja was in office at the DMR – the prospecting right was then executed in favour of PAMDC. Ramatlhodi later acknowledged that Ramontja, who resigned from the DMR last year, had been conflicted.
THE APPEAL
It was only when Aquila attempted to win a mining permit over manganese-bearing properties in 2012 that the DMR informed it of an overlapping prospecting right.
Aquila appealed the matter on October 29, 2013 whilst PAMDC launched a cross-appeal both of which were to be heard in an internal DMR hearing that should have taken 30 days once the various papers related to the appeals had been submitted.
As matters turned out, the appeal process took more than 20 months to conclude at which point Ramatlhodi ruled in favour of PAMDC because Ziza had successfully applied first for the prospecting rights. (This was in terms of the 12-month exclusivity allowed to owners of old order mineral rights in order to convert them to new order rights.)
Crucially, the minister's own most senior legal adviser, as well as that of senior counsel, advised him to uphold the Aquila appeal and dismiss the PAMDC cross-appeal, said Judge Tuchten. "But the minister rejected the Aquila Appeal, granted the PAMDC cross-appeal, and refused Aquila's mining right application," said Judge Tuchten.
Despite Ramatlhodi's ruling that Ziza's prospecting right application had been lodged first, there were efforts by the DMR to now reregister Ziza described by Judge Tuchten as "… confusion in the minds of the functionaries in the DMR" who were dealing with "this fraught, as it has become, situation".
Judge Tuchten also found that the PAMDC's delay in delivering its cross-appeal to Aquila's appeal was a tactic. "PAMDC had apparently delayed its answer for months in order to resurrect Ziza from its deregistration in 2010 in England with effect from 14 October, 2014."
EXTRACT FROM THE JUDGEMENT (111 pp. 55 – 56)
"While I have found that institutional bias has not been established, in my view Aquila has established a high degree of institutional incompetence on the part of the government respondents and a lack of energy in resolving the issues which arose from that very incompetence.
"The DMR delayed its decision whether to accept Ziza's application and then concluded entirely irrationally that its delays had exempted Ziza from complying with the MPRDA.
"The Minister too was content to let the appeal process drag on for years while PAMDC positioned itself to take advantage of the restoration of Ziza to the company register, something they did only in an attempt to strengthen their position against Aquila.
"And then when the Minister made his decision, he did so without any attempt to provide proper reasons for his conclusions even though the parties provided full argument and the Minister had called for and was given carefully drawn opinions by his own internal legal advisor and by counsel who was briefed to furnish an opinion.
"The Minister did not do justice to the case he was called upon to decide. I say this not because the Minister was wrong but because he made no attempt to give proper reasons for the conclusions to which he had come."
THE FULL JUDGEMENT
Aquila Judgement Case No 72248-15