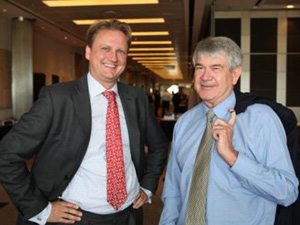 PALLINGHURST Resources is to buyout minority shareholders in UK-listed gemstones company, Gemfields, by offering $150m in its shares in a transaction that marks the beginning of the group's transition to an operating company.
The buyout of minority shareholders in another of Pallinghurst Resources' investments – its Tshipi manganese mine in South Africa's Northern Cape province – is also on the cards.
In addition, Pallinghurst will cancel is management contract with its underlying investments making its four key executives salaried employees with a mandate to provide hands-on management control over Gemfields.
Currently, Pallinghurst is an investment company with a 47% stake in Gemfields, a 18.45% in Jupiter Mines, a steel feed company, and a 42% stake in Sedibelo Platinum Mines.
The company said earlier this year that it was considering "a value unlock" as its 10-year term initially set out as an investment firm was due to expire.
On May 17, Pallinghurst unveiled a joint venture agreement with the Zimbabwean government in which legislation would be promulgated compelling the country's platinum miners to sell their concentrate to refineries developed by Pallinghurst. The agreement would see some $500m in investment in Zimbabwe.
An announcement today set down a plans to buy the outstanding shares in Gemfields in a ratio of 1.91 new Pallinghurst shares for each Gemfields share. Gemfields shareholders owning 28% of the company had agreed to the offer which means that Pallinghurst can de-list the company from London's Alternative Investment Market.
Pallinghurst has extended its life as a closed-end investment firm, registered in Guernsey, since its 10-year term has now expired, but once it lists in London it will become a "box standard" operating company, said Arné Frandsen, Pallinghurst CEO in an interview with Miningmx.
"When we created Gemfields by putting the Kagem emerald mine into the business it was trading at 40 pence per share. It is now trading at 39p many years later," said Frandsen.
"Gemfields has been on Pallinghurst's books for 15 years and we have been its bank. But we are not getting a response. It is worth half of our value – the Pallinghurst share price is dependent on Gemfields – and its the key reason why shares in Pallinghurst have gone down. I and my shareholders can't accept that," he said.
Frandsen said existing Gemfields management, including CEO Ian Harebottle, would be tasked with operating duties while the marketing of the firm's investment case would be taken up by Frandsen and his executive team. Brian Gilbertson, founder and chairman of Pallinghurst, Andrew Willis, finance director, chief investment officer, Sean Gilbertson, and Priyank Thapliyal as chief operating officer comprise the core of the executive team.
Frandsen said Gemfields was illiquid and would benefit from incorporation into Pallinghurst which would, in turn, benefit from closer proximity to the cash flow of its underlying businesses.
In addition, Pallinghurst is to accelerate the development of Gemfields' Zambia and Mozambique assets, explore strategic alternatives with Fabergé through which its emeralds, amethyst, rubies and sapphires are effectively marketed, and improve profitability by cutting costs across the enlarged group.
Gemfields recently trimmed its full year production guidance for 2017 although Macquarie said in a report that although operational setbacks had hampered the share it remained "… confident in the three-year growth plan to nearly double production of rubies and emeralds". Shares in Gemfields were 5% higher in early London trade.
In March, Gilbertson commented in Pallinghurst's full-year results review that in respect of the Tshipi mine: "We are exploring all strategic alternatives to realise shareholder value from this asset". Asked for comment on the possibility it would also be taken out, Frandsen declined to comment.
Pallinghurst has access to Tshipi through its 18.45% investment in Jupiter Mines which, in turn, has a 49.9% stake in Tshipi é Ntle Manganese Mining (Tshipi). Pallinghurst said in December it expected to receive a $10m (R140m) dividend from its stake in the asset which had a bumper year owing to the improvement in manganese prices internationally.