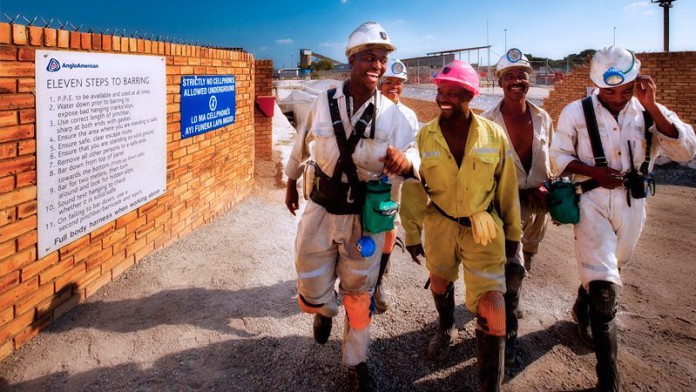 ANGLO American Platinum (Amplats) took the sale of non-core assets to no less than R6.3bn in 18 months after agreeing to part with its 85% interest in Union Mine and a 50.1% interest in MASA Chrome Company for R400m in cash to Siyanda Resources.
In addition to the cash consideration, Siyanda will also pay 35% of cumulative positive distributable free cash flow per year as an earn-out over 10 years up to a maximum payout to Amplats of R6bn.
Siyanda Resources, a private company, is led by Lindani Mthwa, a former Union mine production manager. The company is also Amplats' joint venture partner in MASA Chrome and is therefore buying shares in the chrome business it doesn't already own.
The maximum payable by Siyanda will be R6.4bn for 10 years from the time the deal is consummated. Unlike the sale of Rustenburg Platinum Mines (RPM) by Amplats to Sibanye Gold, there is no obligation for Amplats to contribute towards negative cash flow should the operation be loss-making. Union was producing cash at current platinum prices.
Siyanda will sell concentrate produced by the Union Mine to Amplats for seven years on pre-agreed commercial terms and thereafter Amplats will toll treat the concentrate for the remaining life of the Union mine.
Amplats said proceeds from the sale, which is expected to be concluded in the second half of 2017, would be used to whittle down debt.
This transaction, as well as a second customer prepayment of $100m, positive underlying cash flow, and non-core sales of mineral rights to Northam Platinum, and a stake in the Pandora Joint Venture to Lonmin will see Amplats take net debt to below R5bn by the close of the current (2017) financial year.
The $100m prepayment was part of a sales agreement with a single key customer for a total of $250m. The first $150m having been paid at the end of the 2016 financial year. "This has further strengthened our balance sheet and for the customer there is a benefit in securing platinum with a leading platinum producer," said Ian Botha, finance director of Amplats. The price of metal supplied would be at market prices at the time of the sale.
As per Amplats' full-year results ended December 31, which were also published today, Amplats had net debt of R7.3bn – a reduction of R5.5bn during the 12-month period. The upfront payment of R1.4bn from the sale of RPM was included in the year under review.
Asked in a media call this morning if the group would consider a resumption of dividend payments in the current financial year, Botha, said it was too early.
"It [a dividend payment] is an important part of our capital allocation model, but when we reintroduce it, it needs to be sustainable. So we need conditions that would give us greater confidence," he said. Amplats' last dividend payment was its final declaration in its 2011 financial year.
Operationally, Amplats turned in an improved performance in its 2016 financial year, especially in terms of containing cash costs.
Mined and purchased metal production increased 2% to 2.38 million ounces while platinum mined was 956,000 oz, a 5% improvement. Of own production, Mogalakwena output was 5% higher at some 412,000 oz for the year.
Cash costs per platinum ounce were R19,545 oz compared to R19,266 oz, a 1.5% increase year-on-year. The basket of platinum group metals (PGMs) Amplats produced helped Amplats to a 5% increase in pretax earnings to R9.1bn and a R2bn turnaround in the bottom line year-on-year.
Headline share earnings were 713 cents per share (2015: restated numbers of -48 c/share) while underlying headline – which excludes impairments, restructuring costs and stock gains – share earnings were 784c/share from 364c/share previously.
Johann Steyn, an analyst for Citi, described the results as "… a very solid operational delivery … and the sale of non-core Union provides further evidence of this".
"A neutral set of results," said Goldman Sachs.
Chris Griffith, CEO of Amplats, said the company expected to report between 2.35 million oz to 2.4 million oz in platinum production for the 2017 financial year of which own mine output would be stable at about 960,000 oz.
Cash costs per platinum oz production would be between R20,350 and R20,850 while capital expenditure would fall between R3.7bn and R4.2bn.
Of the capital expenditure, R2.9bn to R3.2bn would be stay-in-business (SIB) capital. "We are not cutting back SIB because of strain on the balance sheet. We are not starving the business of SIB capital," said Griffith.