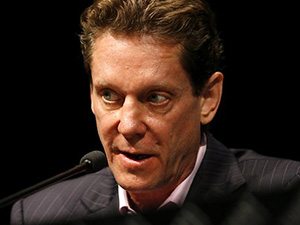 MINING entrepreneur, Robert Friedland, assured investors there would be a positive outcome concerning the new mining code in the Democratic Republic of Congo (DRC) whilst demanding regulatory stability and ethical transparency from the country's politicians.
He also warned of the severe financial consequences for the DRC that would result from an unfavourable outcome commenting "… money is a coward. Money flees at the speed of light when it gets scared."
Golng "off script" and "talking from my heart" during his presentation to the Mining Indaba in Cape Town, Friedland also pondered whether there had been "astrological influences" from the recent 'blue moon' at work in the presentation of the code by the DRC politicians. He cited a previous similar situation in Mongolia that had temporarily affected the Oyu Tolgoi copper mine development.
Both houses of the DRC parliament have approved the new mining code which, if implemented, will impose higher royalties and windfall taxes which will have serious implications for a number of copper producers. The code has still to be signed into law by President Joseph Kabila before it can be implemented.
Friedand is the founder and chairman of Ivanhoe Mines whose Kamoa-Kakula copper/cobalt project in the DRC will be directly affected by the new code.
He told delegates: "I am happy to pay higher royalties, I am not concerned about the level of taxation. That's not the fundamental issue. The issue is that the mining industry absolutely requires stability. We just can't get there from here without stability. And we need transparency. I don't mind paying a higher royalty as long as that royalty goes to develop and empower local people."
Friedland said he had met the DRC mines minister and that the outcome of his discussions with him were positive. "We are happy to talk about what the new dispensation is going to be. I am highly confident there will be a dialogue and I am highly confident we will reach a sustainable and mutually beneficial, long-term solution," he said.
Friedland said it was "okay to refresh the mining code" which had been drawn up in 2003 because "… times have changed a bit", but he then raised the question of whether there had been "astrological influences" in the passing of the new code. "Strange things happen due to astrology. I remember it was on a full moon that the Mongolian government – under the influence of vodka apparently – suddenly passed a 50% windfall profits tax and demanded a 34% participation.
"It must have been the full moon. The World Bank came to them. They came to their senses and a more realistic long-term solution was reached. And – this is hard to believe but true – we recently had a blue moon and all these things are happening.
"The winds of change are blowing in the ANC. And we were suddenly presented with this new mining code that has caused the mining industry to have discussions like I have never heard before.
Friedman said he had been talking to executives like Randgold CEO, Mark Bristow; Glencore CEO, Ivan Glasenberg, and "our Chinese brother", adding: "We have all come together and realised we are at some kind of astrological moment and we will work together. "I express the faith that, despite the doubts of press and the constant calls that we are getting, we will find the way.
"This is a marathon, not a sprint. I ask all of you to have faith in our efforts. Don't freak out too much about what you are reading. There's a lot more underneath the surface. We will get there. Peace."