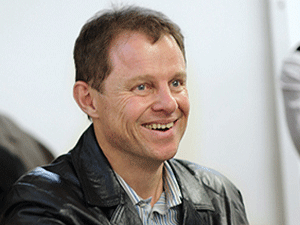 [miningmx.com] – ROCKWELL Diamonds burst into a C$345,000 first quarter profit signalling a major breakthrough in the R214m diamond firm's three-year turnaround strategy.
Rockwell has focused its efforts on mining alluvial diamonds from the Middle Orange River in South Africa's Northern Cape province where it has built two new mines, the Saxendrift and Niewejaarskraal operations.
It has also invested in new recovery technology which enables the company to achieve better yields on its tonnages and has rebuilt its earth-moving fleet – a process that is ongoing, according to the firm's first quarter results commentary today.
There was evidence of some profit-taking in the share today – down 11% on the Johannesburg Stock Exchange after surging about a third earlier this month – but on a 12-month basis, the stock is up a quarter.
James Campbell, CEO of the company since June 2011, said the maiden first quarter profit highlighted "… the consistent delivery against our plan, which saw our exit from loss-making operations and the resolution of a number of corporate legacy issues".
Carat production increased 89% in the quarter compared to production in the first quarter of the previous financial year. Volumes processed were also higher, up 19% from a year ago while grade improved 59% year-on-year.
Rockwell is targeting total monthly gravel volumes of 500,000 cubic metres in the medium-term. It shifts 560,000 cubic metres owing to some 200,000 cubic metres of third party mining but intends to meet the 500,000 cubic metre target from own operations by organic growth.
The average stone size produced by Rockwell from total properties in the quarter increased 18% to 4.6 carats from 3.8 carats in the prior year. These stones included a 103.8-carat high intense fancy yellow stone.
Commenting on the diamond market, Campbell said that manufacturers continued to struggle owing to the paucity of finance but said that retail demand at the high-end of the market remained good.
Prices would correct somewhat as the Northern Hemisphere economies headed into the summer were trading activities were usually lower.