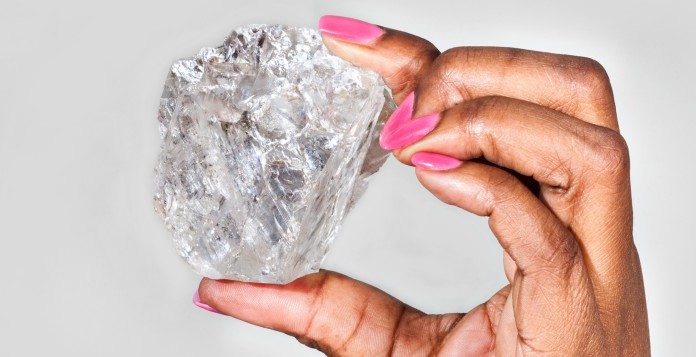 LUCARA Diamond Corporation was receiving two to three inquiries per week from people interested in buying Lesedi La Rona (Our Light), a 1,111 carat diamond recovered from the firm's Karowe mine in Botswana last year.
"Demand given the rarity of the diamond is very high," said William Lamb, CEO of Lucara today. "We already have viewings booked in early September," he added.
Lamb was commenting during a presentation of the firm's second quarter figures in which it achieved 12 US cents per share in earnings compared to 2c/share in the corresponding period of the previous financial year. On an interim basis, the firm achieved share earnings of 17c/share (2015: 4c/share).
Lamb added that he was uncertain if the diamond would be sold this year or next but said that "… given the demand the price is definitely going to be achieved".
Lucara put Lesedi La Rona on public auction in January, but did not complete it after bids topped out at $61m. This was short of the undisclosed minimum reserve price. Sotheby's had estimated the diamond would sell for more than $70m.
In attempting a public auction, Lamb said the company was attempting to access "an alternative pool of money" in a sale that would not heavily disturb the high value stone market. "We don't believe they understood what we were trying to do," said Lamb. "But can't change 100 years of tradition in one auction," he added.
Commenting on the diamond market in general, Lamb said the company would approach the next six months "very cautiously", especially the company's regular tenders [it also holds exceptional stone tenders]". He was concerned there was a large amount of inventory that would hold down the lower value market.
Lucara has guided for revenue of between $200m to $220m (2015: $223m) for the 2016 financial year, and revised its operating costs down to between $29 to $31 per tonne from a range of $33.5 to $36.5/t previously.
Lamb said the Karowe operation was "hitting its stride" with tonnes mined about a month ahead of last year's figure, whilst a refurbishment of the plant would enable it to screen to about 90mm. It had held off mining the pit section from which Lesedi La Rona and the 813 carat Constellation diamond, which sold for $63m in May, was plucked until the plant was modernised, due to be completed in September.
On the back of strong diamond sales, Lucara announced in July that it would pay a $132m special dividend to shareholders which took the total dividend paid in its current financial year to 35.7c/share.
Notwithstanding the payout, and before factoring in potential revenue from the sale of Lesedi La Rona, Lucara had cash on hand of $210.8m, an increase of $66.5m during the quarter.
Net income for the six months totalled $63.3m (2015: $14.6m) reflecting an increase in the total sales as measured by average dollar per carat of $1,233 compared to $340 per carat in the interim period of the 2015 financial year.
"Our cash balance after the dividend is still very strong," said Lamb who added that a decision on selling Lesedi La Rona was not urgent.
The 1,111 carat gem is second in size only to the famous Cullinan diamond which was cut into the British Crown Jewels in the previous century.