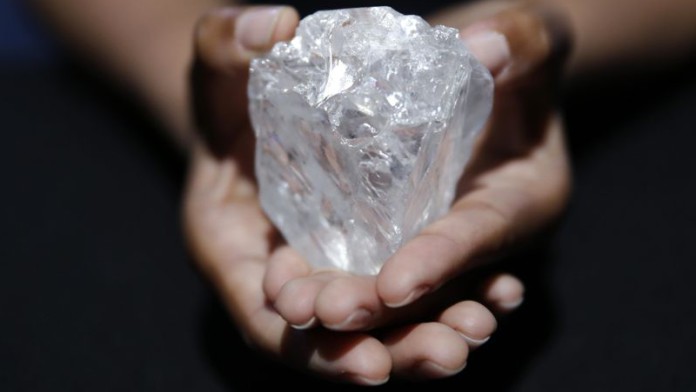 LESEDI La Rona, the largest diamond discovered since the iconic Cullinan diamond in the previous century, has been sold to upmarket British jeweller Graff Diamonds for $53m.
The sale price was in excess of the highest bid offered for the diamond at a Sotheby's auction in 2016 when Lucara Diamonds, the mining firm that discovered 1,111 carat gem, elected not to sell the item.
"We took our time to find a buyer who would take the diamond through its next stage of evolution," said William Lamb, CEO and president of Lucara Diamonds in a statement. He described the discovery of Lesedi La Rona as a "company defining event". It was discovered at Lucara's Karowe mine in Botswana which is renowned for yielding large diamonds.
Laurence Graff of Graff Diamonds described the purchase as "… a momentous day in my career" and that he was "… privileged to be given the opportunity to honor the magnificent natural beauty of the Lesedi La Rona". The $53m consideration equates to $47,777 per carat. Lesedi La Rona translates as 'Our Light', a name given to the gem following a poll among Batswana.
"The stone will tell us its story, it will dictate how it wants to be cut, and we will take the utmost care to respect its exceptional properties," said Graff.
Attention will now turn to how the proceeds of the diamond will be allocated by Lucara Diamonds which has established a track-record for dividends.
Lucara warned shareholders in August that owing to its mining contractors' lack of equipment availability in the second quarter could see full year production as much as 14.5% lower than guided.
Reporting for the quarter as well as its half-year numbers today, in which interim earnings came in at eight US cents per share compared to 17c at the interim in the 2016 financial year, Lucara said full-year production would be between 265,000 to 285,0000 carats compared to previous guidance 290,000 and 310,000 carats.