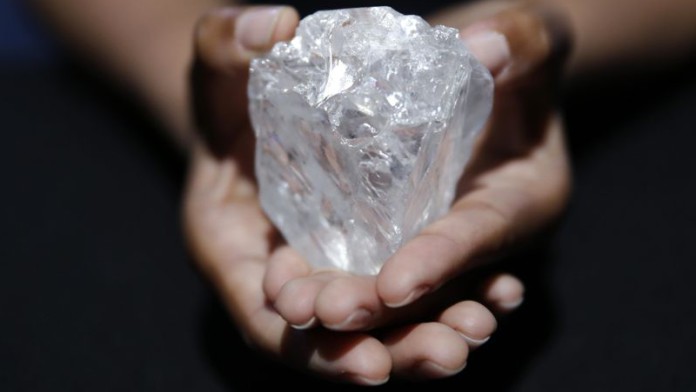 LUCARA Diamond Corporation (Lucara), the Botswana-based miner, today unveiled ambitious plans to add a marketing arm to its mining business following the purchase of a digital trading platform for an initial sum totalling $29m in shares.
The company also announced that its CEO, William Lamb, was to step down from his current position after 10 years at the firm. He will be succeeded by Eira Thomas, a founder and director of the company.
Lucara's is to buy Clara Diamond Solutions Corporation, a digital sales platform which proposes a number of improvements in the way the firm sells rough diamonds, including the ability to identify diamond provenance and therefore remove the risk of so-called conflict diamonds. It also promises to match individual diamonds to buyers.
Equally important is the proposed benefit to cash flow as the diamonds can be sold outside the traditional sales cycle. De Beers, for instance, holds ten 'sights' a year whereas Lucara intends Clara Diamond Solutions to create a spot market. It will use the company's bespoke technology for rough diamonds mined at its Karowe diamond mine in Botswana, but the idea is to extend it to other diamond miners in time.
"Testing on the platform has demonstrated the potential to unlock greater than 20% of value throughout the diamond pipeline to the benefit of all participants," said Lucara in an announcement today.
In terms of transaction details, Lucara will issue some 13.1 million shares – equal to $29m – to the owners of Clara Diamond Solutions at some C$2,20 per share, its closing price in Toronto on Thursday last week (February 22). This will result in dilution of 3.7%. Further staged equity payments totaling 13.4 million shares will be paid on performance milestones related to total revenues generated through the platform, the company said.
Lucara has also agreed to share profits with the founders of the Clara technology, and management who will retain 13.33% and 6.67% respectively of the annual pretax earnings up to a maximum of US$25m per year for 10 years. Thomas was a shareholder of Clara and was issued a total of about 1.19 million shares in Lucara for her Clara shares. She will be issued an additional 1.79 million shares of Lucara in line with the performance criteria.
LAMB RESIGNS
Commenting on his resignation, Lamb said he would retain an association with Lucara serving as a technical advisor. "Eira, as the new CEO, will be well supported by a focused and experienced team at Karowe as we look to expand the mine undergound, and I am pleased to be taking on a key advisory role as we embark upon this next, exciting phase in Lucara's development," he said in a statement.
Thomas, a geologist, worked at Aber Diamond Corporation (now Dominion Diamond) for 16 years working her way up to vice president of exploration and company director.
She was co-founder of Stornoway Diamond Corporation serving first as CEO and then as executive chairman. There she led the acquisition of the Renard diamond deposit which subsequently became Quebec's first diamond mine. In 2007, she founded Lucara with partners Lukas Lundin and Catherine McLeod Seltzer. McLeod Seltzer will also join the Lucara board.
Lucara forecast lower revenue and higher cash costs for its current (2018) financial year as it mined increased waste in order to access fresh diamond-bearing resources located in the south lobe of its Karowe mine in Botswana. Revenue was forecast to be between $170m to $200m which compares to revenue of R220.8m in the 2017 financial year, the results of which were published today.
Production was forecast to be higher, however, at between 270,000 to 290,000 carats (cts) which compares to production of 249,767 cts last year.