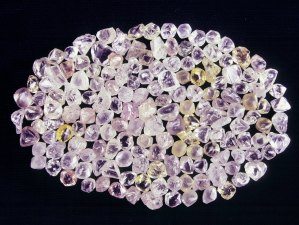 Diamond producer Trans Hex is selling its loss-making Baken and Bloeddrif mines for R72m in cash and speculation on the deal drove the share price up 52% ahead of yesterday's announcement which came after the close of trading on the JSE.
The announcement was made on the JSE Sens news service at 17h35 but the Trans Hex price had jumped ahead of it during the day's trading rising from 115c a share at 12h51 to 175c by 15h34. The volume traded was minimal with only 23,645 shares worth R31,928 changing hands and the share is still way below its 52 week high of 470c.
Trans Hex is controlled by a consortium – consisting of Christo Wiese's Magenta Cream and Metcap Proprietary Limited and Piet Viljoen's RAC investment Holdings – which owns 76.74% of the company.
Both mines are not operating because Trans Hex put Baken on care and maintenance in November last year after doing the same to Bloeddrif in May. Baken lost R137.5m in the six months to end-September – which included a provision for retrenchment costs – and had lost R35.8m in the year to end-March 2017.
The Baken mine is located on the banks of the lower Orange River about 60kms from Alexander Bay and, according to Trans Hex, the "mine's low carat production and subsequent financial losses were considered to be unsustainable."
Bloeddrif – which is located 30kms upstream of Baken in the Richtersveld – lost R60.1m in the six months to end-September and R55m in the year to end-March 2017.
According to a statement from Trans Hex, LOR is a "black woman owned company" which has a management team with "extensive knowledge of and experience in the diamond exploration and mining industry but is not currently engaged in other diamond mining operations."
Trans Hex will receive R50m in cash within seven days of signing the sales agreement with the rest to be paid in deferred payments of R2.75m each over a period of eight months starting five months after the agreement is signed.