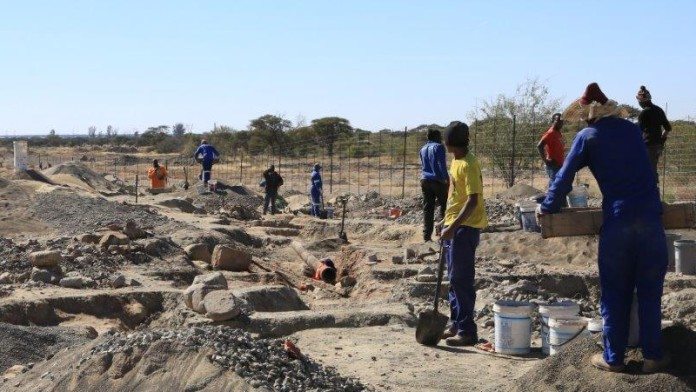 Illegal mining at Petra Diamonds' Kimberley Ekapa Mining JV (KEM) near Kimberley affected production during the March quarter by restricting access to high grade dumps at the surface retreatment operation.
Petra CEO Johan Dippenaar said the restriction was caused by a combination of "physical blocking" of access to the high-grade dumps as well as impacts on haulage routes used to bring dump material to the treatment plant.
The KEM operations have been plagued by the activities of illegal miners for nearly two years despite repeated attempts by Petra – and also by previous owners De Beers – to get the South African Police Services (SAPS) and the Department of Mineral Resources (DMR) to take action against the illegals.
Dippenaar said Petra is "currently progressing a lawful eviction order for the illegal miners in conjunction with the local government and other relevant authorities in Kimberley. However, the company also remains committed to finding a longer-term solution to address this issue via multi-faceted stakeholder engagement"
Replying to a question on an investment conference call held on Monday morning over why nothing had been done by the SAPS and DMR so far to protect Petra's mining rights and assets from the illegals, Dippenaar repeated that the company was now pushing ahead with the eviction order.
He added, "over the last few weeks our interaction with the relevant government departments has given us more optimism about the situation."
In September 2016, Miningmx reported that Petra's Kimberley operations had been invaded by more than 1,000 illegal miners who were described at that time by KEM CEO Jan Hohne as " a serious threat to our operations".
Hohne said the illegals had intimidated KEM's staff; carried out malicious damage to mine property as well as bouts of arson and widespread theft of equipment. He also pointed out the illegals were operating in contravention of four acts governing SA's mining industry.
He said KEM was in constant communication with SAPS and the DMR about the situation and that De Beers had laid charges against the illegals previously.
Asked at the time what SAPS and the DMR had actually done in response Hohne replied, "SAPS has supported us in dealing with situations where our workers have been threatened but we are disappointed no further action has been taken to uphold the law."
Dippenaar reported Petra's production for the nine months to end-March had risen to 3.2 m carats (previous comparable period – 3m carats) and that the group maintained its guidance of around 4.6m to 4.7m carats production for the full year.
He commented that Petra, "retains sufficient liquidity from existing cash resources, operating cashflows and existing facilities to meet its liabilities as they fall due under current forecasts, although headroom remains sensitive to a number of uncertainties including the increased volatility in the rand/US dollar exchange rate; grade and price variability at Cullinan as well as the outlook for Williamson and the blocked diamond parcel."