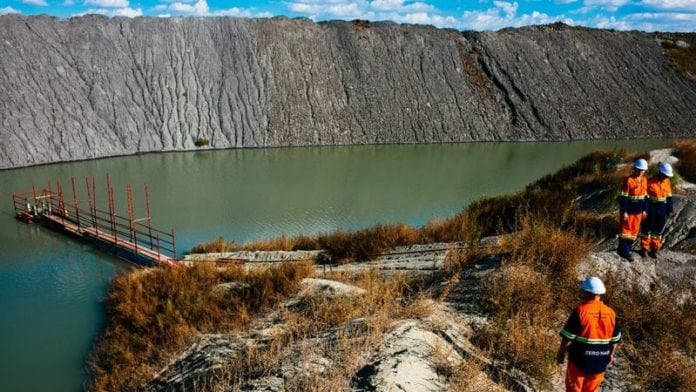 DE BEERS has abandoned its formal process of finding a buyer for Voorspoed, the Free State province mine the diamond group said in November it viewed as non-core.
The plan was that an operator with a lower cost structure or a different mining approach would be able to take over and extend Voorspoed's life to 2020. The mine was opened by De Beers in 2008 with a proposed 10-year life of mine.
"Unfortunately, we have not been able to identify a bidder that met the necessary criteria and so we have reluctantly taken the decision to close the operation, in a responsible manner, as it is no longer economically viable for DBCM to operate the mine," said Philip Barton, CEO of De Beers Consolidated Mines (DBCM), the South African subsidiary.
"We do not underestimate the impact this will have on Voorspoed Mine's employees and we have put in place appropriate support structures," he said.
However, South Africa's Department of Mineral Resources (DMR) wants DBCM to throw a lifeline to Voorspoed by running a process parallel with retrenchments in which it seeks to find an "… operator capable of purchasing Voorspoed mine". This followed a meeting on July 30 in which the DMR expressed its concerns regarding job losses in the mining sector.
Lonmin is letting about 2,000 employees go this year as part of a total retrenchment process of some 12,000 as it shuts some of its old shafts. There are also likely to be job losses at Impala Platinum which is due to restructure its Rustenburg shafts imminently. Voorspoed mine has a total of 967 employees of which some 407 are permanently employed, and 560 are employed on a contractor basis.
"DBCM confirms that it is in principle not opposed to the DMR's request of embarking on a process to identify a Proposed Operator within a 30-day period commencing on 1 August 2018 and ending on 31 August 2018. DBCM will engage further with the DMR in relation to the proposal in order to understand and finalise the basis upon which it will be undertaken," the company said in a statement.
De Beers turned in a reasonably strong production performance in the six months ended June 30 in which it produced 17.5 million carats, an increase of 8% year-on-year. It also recorded an 4% increase in realised prices for the period of some $162 per carat. But a 6% increase in costs resulted in lower underlying pretax profits of $712m, down some 9%.
De Beers has concentrated its production on huge, world-class operations such as the Orapa and Jwaneng mines in Botswana and the Venetia mine in the Limpopo province in South Africa at which it is spending $2bn in expansion capital.
It has also operated in Canada, although with mixed results. It recently opened the Gahcho Kué mine – which entered commercial operation in March – but that was after having to flood the workings at its Snap Lake mine and put it into "extended care and maintenance" in December last year.