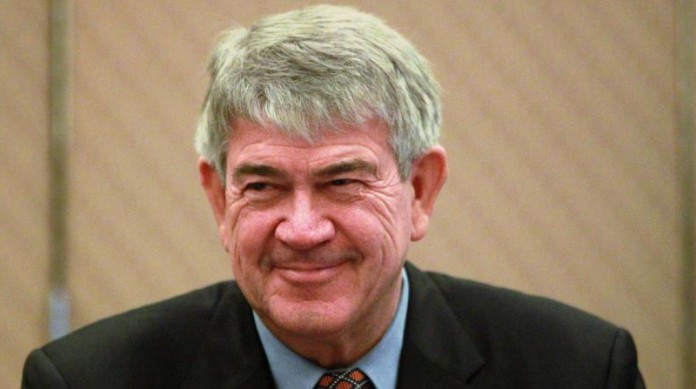 GEMFIELDS, a Johannesburg-listed precious gemstones miner and marketer, was giving thought to a London listing, although it would not seek funds by debuting there, said the firm's chairman, Brian Gilbertson.
Commenting in Gemfields 2018 financial results announcement, in which the company reported a $60.4m loss including exceptional items for the period (2017: $45m profit), Gilbertson also said dividend payments were targeted in the current year.
"In addressing a lack of broker research and share trading liquidity, as well as feedback from shareholders who received JSE-listed GGL shares in return for their AIM-listed Gemfields plc shares in 2017, our management team is exploring an additional listing in London during 2019," said Gilbertson.
Gemfields, which was previously listed as the investment fund Pallinghurst Resources before it became an operating company, controversially bought out miniority shareholders in an underlying investment, Gemfields plc in 2017. There was an argument about the price of the share purchases.
Following this transaction, Pallinghurst then set about closing itself as a fund and distributing or selling its various investments whilst renaming itself Gemfields – listed only in Johannesburg – so it would represent the gemfields business it had chosen to retain.
From an operating perspective, Gemfields now consists of emerald, ruby and beryl production from mines in Zambia and Mozambique. It also controls Farbergé, the historic jeweller, which is its front-facing retail outlet.
Gemfields sold down a portion of its shares in Jupiter Mines, which has a stake in the Tshipi manganese mine in South Africa's Northern Cape province. But it has yet to sell its 6.54% stake in Sedibelo Platinum Mines, the downwards re-valuation of which was a major part of  the exceptional items that weighed on Gemfields' bottom line.
Gilbertson said the company had applied a discount of 30% to the $1.1bn in estimated platinum group metal reserves and resources owned by Sedibelo. This represented a view that in selling a small stake in Sedibelo there was the challenge of natural illiquidity, especially as Sedibelo is unlisted. The consequent impact of the illiquidity discount applied to Sedibelo's resources and reserves valuation was reflected in Gemfields' accounts.
From a pre-tax earnings perspective, Gemfields reported $58m in earnings compared to $30m in earnings in the 2017 financial year. It also turned net cash to the tune of $9.8m during the period from net debt in the prior period.
The balance of its shares in Jupiter Mines would be sold in "an orderly fashion", said Gilbertson. Gemfields is free to trade in Jupiter Mines shares, which are listed in Australia, after September. An A$3.6m dividend will be paid to Gemfields by Jupiter Mines in May.
Gilbertson described an increase in taxes by the Zambian government as the company's greatest challenge in the coming months. Zambia imposed a 6% mineral royalty on gemstones which took the total tax on revenues generated by Gemfields' Zambia mine, Kagem, to 21%. The mineral royalty is also no longer tax deductible.
Gemfields and Kagem have been "… in active and regular dialogue with the relevant ministries since the changes were first mooted in October 2018," said Gilbertson. However, the changes resulted in an impairment on Kagem of some $22.6m.
Of dividends, Gilbertson said: "While our business inherently involves fairly volatile geological and political risks, making a maiden distribution to our shareholders remains a key ambition for the year ahead.