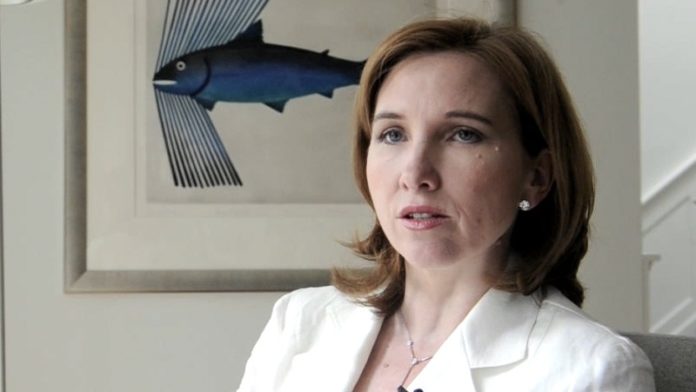 SMALLER diamond producers are watching with interest (and a little scepticism) to see whether Lucara Diamond's recent introduction of a new electronic sales platform, Clara Diamond Solutions, will revolutionise traditional diamond selling methods.
The last year has been particularly noteworthy for Lucara. It not only launched its new blockchain-based diamond trading platform, but it also discovered in April an unbroken 1,758 carat diamond at its Karowe diamond mine in Botswana. This is one of the biggest diamonds ever found. Lucara CEO, Eira Thomas, said the intention is to invite the people of Botswana to name it.
Lucara expects to make a decision towards the end of this year, once the feasibility study is completed, on whether to invest in an underground extension to Karowe. Thomas said a big value driver for the investment was that as Karowe gets deeper, the EM/PK(S) unit, from which the latest large stone and others such as the Lesedi la Rona and the Constellation were mined, becomes more dominant.
In the near future, Clara is expected to add another revenue stream for Lucara. Clara is a secure, digital sales platform that uses proprietary analytics, cloud and blockchain technologies to market and sell diamonds differently.
Traditionally, small producers have sold a mixture of diamonds in parcels through sealed tenders. Trans Hex Group was one of the earliest companies to establish and successfully use the tender system, and in 1985 Argyle Diamonds introduced its now famous "Pink Diamond Tender".
De Beers recently launched a new online platform, Tracr, which uses the internet of things, artificial intelligence, blockchain and security technologies to guarantee the origin, authenticity and traceability of diamonds. Tracr, however, is not an online sales system.
On Clara, rough diamonds (focusing on the 1-15 carat category, which is the most predictable) will be classified and characterised using the widely-accepted Sarine Technology. Manufacturers upload what they are looking to polish, and the system matches the diamond to the buyer's requirements. Out of 1,000 diamonds sold through Clara by mid-2019, only three were returned – and those were because of a misunderstanding about the filters used, Thomas said.
"Everyone else has put their stones into the manufacturing system and sold them. Feedback has been very positive."
Blockchain technology provides full traceability back to the point of sale.
That prevents diamonds getting into the system that were mined with child labour or used to finance armed conflicts, enhancing the Kimberley process of diamond accreditation.
Thomas said Clara would be a new growth opportunity for Lucara. She believes when other producers, manufacturers and retailers can see value unlocked by trading on Clara they will be attracted to it. The plan is to add third-party rough diamonds to Clara by the end of this year.
Clara's first sale was held in the fourth quarter of 2018, and it realised a better margin than through traditional tenders (8% more than the market price and 15% above the reserve price). By the end of the March quarter, Lucara had sold $1.4m of rough diamonds through Clara.
An analyst, who preferred not to be named, said it was too soon to see if Clara would be successful. "It does make sense to match buyers and sellers of diamonds and I think the retailers are quite keen," he said.
It was likely some of the other diamond miners would try it although he doubted whether De Beers would. It would also not suit a producer like Argyle, which mines a lot of lower quality diamonds along with a few fancies. The benefits of matching buyers and sellers worked best in the 1-15ct range.
John Bristow, a diamond industry consultant, said everyone in the industry supported traceability, but Clara, as a fully electronic tender system, introduced new ideas and approaches that needed to be tested on a full range of sizes and qualities of rough diamond production.
Bristow said producers were watching Clara with interest, but it was likely to present challenges. It was easier to document, certify and sell polished diamonds than rough ones because estimates of how a rough diamond could be cut and what value it could realise tended to vary widely.
"Rough diamond buyers have always had a lot of personal interaction with a diamond, especially the better qualities," Bristow said.
He said the parcel system, which mixed some ordinary and some better-quality stones, suited producers, who could not afford to hold stones they could not sell, particularly the smaller privately owned producers who typically relied on regular sales to sustain their businesses.
He was also doubtful whether Clara would favour smaller producers whose key focus was on producing and selling regular smaller parcels of goods, typically high quality gems from alluvial deposits, and did not have the time and resources to maintain internet sales platforms.
An open tender system introduces an element of competition among buyers, which drives up prices. "Someone wanting a particular type of diamond for a set will pay a premium over other bidders to get it. I'm not sure you will get that in electronic bidding, but time will tell," Bristow said.
In response, Thomas said Clara created the maximum possible competition for diamonds. It also allowed manufacturers to buy only the diamonds they wanted, so both producers and buyers were in control of the process. When diamonds are sold in parcels, they realise only an average price. The best stones are always discounted by the lower value stones. Clara creates more connectivity.
"We don't believe there is such a thing as a less desirable diamond – just one that does not reach the right buyer," Thomas said.