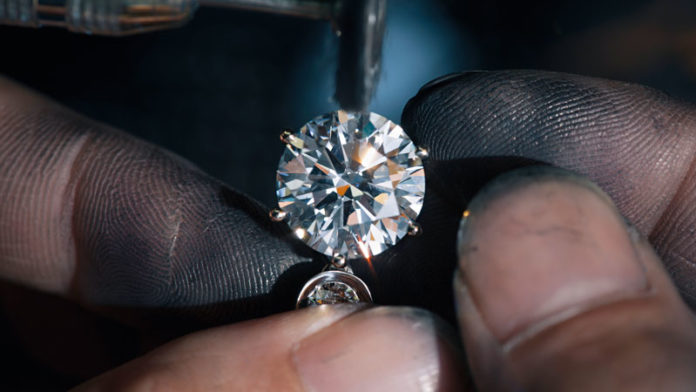 SHARES in Petra Diamonds looked set to at least match the year-to-date low of 16.9 pence after the company unveiled a conservative pre-tax earnings forecast for its 2020 financial year, informed by expectations for a flat diamond prices.
The company set 2020 production at about 3.8 million carats which was in line with the 2019 number as per a trading update today, but below the four million carats previously flagged. It also cut output from the Cullinan tailings operation to 100,000 carats in 2020 owing to frail demand for smaller diamond sizes.
A decline in recoveries from Cullinan's tailings – which would be monitored and possibly re-incorporated should market conditions improve – would keep costs flat in 2020. The aim in the current financial year was to "reset" costs across the portfolio of assets.
These steps were part of Project 2022 which is the first major initiative of new CEO, Richard Duffy, who was appointed to Petra with effect from April 1. "The focus in the short term is on driving efficiencies across the business through Project 2022 to provide a stable, consistent operating platform off which to drive improvements, supported by an appropriate organisational structure and cost base to enhance our cash flow generation and significantly reduce our net debt," Duffy said today.
The thrust of Project 2022 was to achieve an "initial" target of $150m to $200m in free cash flow over three years, a figure that assumed flat diamond prices. The project was an initiative that had been supported by senior executives, the company said.
"This seems like a low target versus our previously forecast cumulative free cash flow of $300m … but this is again based upon flat, i.e. depressed, diamond prices," said Edward Sterck, an analyst for BMO Capital Markets. He adjusted Petra's target price down to 30p/share, whilst keeping it at a 'buy'. Assuming flat diamond prices, free cash flow over the three years targeted by Petra would be $163m, said Sterck.
Capital expenditure would be reduced nearly a third to $43m in the 2020 financial year, but stay in business capital would increase by a similar amount which would keep pre-tax earnings at some $141m for the year. Free cash flow was expected to rise by 18% to about $23m due to an agreement to defer loan repayments to Petra's empowerment partner.
Petra said production for the 2019 financial year ended June 30 would be 3.87 million carats which was in line with guidance and compares to 3.84 million carats in the previous financial year. On mine cash costs were also in guidance, it said without providing details.
However, full year revenue had fallen 6% to $463.6m reflecting the weakness in the diamond market. Petra's realised diamond prices reduced by about 5% per carat which was in line with market movement during the period, it said.
Promisingly, the company registered its first net free cash of some $17m for the second half of the financial year. Petra ran into serious balance sheet problems in the last two years following an aggressive, long-standing expansion programme which was first meant to get the group to production of five million carats annually.
Net debt as of June 30 was $560.5m compared to $559.3m as at December 31.