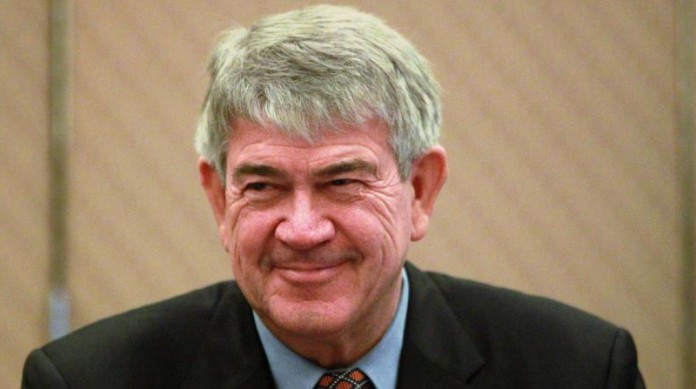 BRIAN Gilbertson is to step down as chairman of Gemfields after UK listing authorities identified the father-son relationship with the firm's CEO, Sean Gilbertson, as "… a potential impediment to robust corporate governance", the gemstones company said in an announcement today.
The former Gencor, Billiton and BHP Billiton boss will make way for Martin Tolcher, a director of Gemfields since 2008 who has an established career in private investment and banking. Tolcher will take up the chairmanship on November 25.
Gemfields said the decision to change the chairmanship was a function of its "ongoing work toward obtaining a dual listing on the London Stock Exchange's AIM (Alternative Investment Market) market. "This ongoing process has highlighted the father-and-son relationship between Mr Brian Gilbertson and Mr Sean Gilbertson – the present chairman and CEO of Gemfields respectively – as a potential impediment to robust corporate governance. By stepping down from the board, the issue is obviated," it said.
Brian Gilbertson is to resign from all other Gemfields subsidiary directorships. However, he would retain non-executive directorships of Fabergé, the jeweller firm he bought from Unilever, and Nairoto Resources – a company that houses Gemfields' gold exploration efforts in Mozambique.
"In accordance with the King IV Code, and given Mr Tolcher's tenure on the board for more than nine years, the board has reviewed his independence and is satisfied that his classification as an independent director remains valid," Gemfields said in a statement.
Gilbertson said it had been "a privilege" to serve on the Gemfields board for 12 years in which it had grown "… from a single defunct mining pit into the world's leading supplier of coloured gemstones". Gilbertson has previously stated that Gemfields wanted to become "the De Beers of the coloured gemstones market".
Gemfields said in May this year it was exploring a UK listing. It said at the time that whilst it wouldn't seek to raise cash, shareholders in the company sought the liquidity of London, as well as the Johannesburg Stock Exchange where the company is currently listed. Gemfields also said it would receive greater broker coverage by being listed in London.
Gemfields, which was previously listed as the investment fund Pallinghurst Resources before it became an operating company, controversially bought out miniority shareholders in an underlying investment, Gemfields plc in 2017. There was an argument about the price of the share purchases.
Following this transaction, Pallinghurst then set about closing itself as a fund and distributing or selling its various investments whilst renaming itself Gemfields – listed only in Johannesburg – so it would represent the gemfields business it had chosen to retain.
From an operating perspective, Gemfields now consists of emerald, ruby and beryl production from mines in Zambia and Mozambique. It also controls Farbergé which is its front-facing retail outlet.
Gemfields sold down a portion of its shares in Jupiter Mines, which has a stake in the Tshipi manganese mine in South Africa's Northern Cape province. But it has yet to sell its 6.54% stake in Sedibelo Platinum Mines, the downwards re-valuation of which was a major part of  the exceptional items that weighed on Gemfields' bottom line.