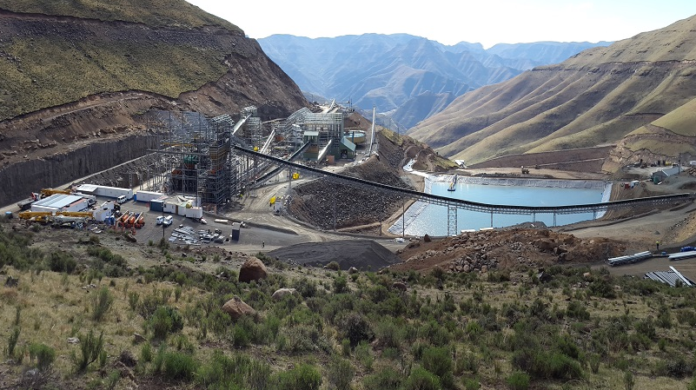 THE pressure of downtime imposed by the COVID-19 pandemic is starting to tell on southern Africa's diamond sector after Firestone Diamonds announced it would mothball its Lesotho mine Liqhobong for 12 months.
Another Lesotho diamond producer, the Sydney-listed Lucapa Diamond Company, said today it had cut staff and contractor emoluments and fees by some 60%; its non-executive directors had forgone their board fees.
Lucapa said it was also seeking finance to help it weather the impact of lost production as a result of lockdown regulations in Lesotho – a development that mirrors similar steps being taken by the UK-listed Petra Diamonds which retained Rothschild & Co, the bank, aimed at refinancing its heavily leveraged balance sheet.
But the major pressure was at Firestone Diamonds which said in an announcement on its website today that uncertain market conditions, including when it might next be able to sell diamonds, had meant it was "prudent not to resume operations at the mine immediately."
This was in order to preserve the life of Liqhobong as well as Firestone's "limited cash resources … or as long as possible to ensure the mine can start up again when the market recovers, which they [board members] believe will take at least 12 months".
Firestone announced on February 26 that it would delist and reduce the size of its board in order to slash costs. This was following a month-long power interruption that cost $4.6m and put the company on the edge of solvency.
It said today its two major shareholders and bondholders, Resource Capital Fund and Pacific Road Resources Fund remained supportive. In addition, discussions with its senior secured lender, ABSA, were ongoing in relation to restructuring the balance of some $63.9m in debt under its $82.4m senior secured term facility.
Diamond sales meetings have been postponed owing to travel restrictions although some companies have attempted to find ways around the problem. Lucapa said earlier this month it had sold diamonds from its Mothae mine in Lesotho directly to a 'high-end diamantaire' realising $2m in upfront revenue.
In terms of the partnership, Lucapa will receive the rough price for the diamonds upfront and then take on the subsequent procurement and diamond manufacturing costs. Any additional margins generated from the later sale of the diamonds beyond the mine gate will be shared equally between Mothae and the partner, the company said.
Another diamond miner, GEM Diamonds, said it had realised $12.1m in sales from the first round of its newly instituted Letšeng flexible tender process.
But on March 30, De Beers cancelled its third sight for the 2020 financial year owing to travel restrictions placed on buyers as a result of COVID-19. It would "… continue to seek innovative ways to meet sightholders' rough diamond supply needs in the coming weeks," it said.