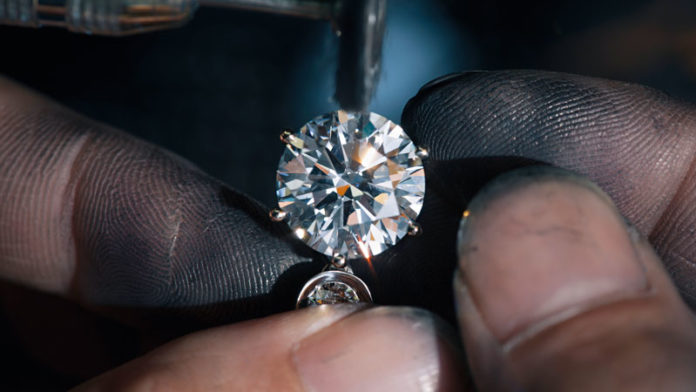 IN a world boiled down to 'essentials', it's easy to see why the anguished cries of celebrities "trapped" in their multi-million dollar holiday homes has become faintly risible, deeply contemptible at worst.
So, too, the need to indulge in luxuries. Even were your local jewellery store open for business, it would seem somewhat off-message to be paddling down there to participate in a bit of high-end retail therapy.
That's why the world's diamond sector is back where it started 2019: in the doldrums.
Mines are largely closed, or on limited production schedules, whilst stockpiled rough diamonds are gathering dust in the workshops of India's Gujurat region – which cuts and polishes 80% of world production – following lockdown restrictions imposed by prime minister, Narendra Modi.
Even newly mined diamonds, the rough goods that may have been mined during the first quarter, are not being negotiated owing to travel restrictions. There's a skeleton crew operating at the Antwerp diamond bourse in Belgium, a price-buying centre, but most of the diamond producers have called off their sales cycles including De Beers, 85%-owned by the Johannesburg-listed Anglo American, and Petra Diamonds, listed in London.
"How do we traverse this period without placing undue pressure on the full chain of supply?" asked Gaetano Cavalieri, president of the World Jewellery Confederation in a note.
De Beers gave a clue earlier this week cutting production about seven million carats in line with new demand, which was much, much lower. But there are potential structural changes to the diamond sector that need to be considered.
Disruptions to the luxury industries, as with any industry, can be profound as evidenced by the first Gulf War in 1991.
So concerned were Israeli diamond traders at impending isolation that might be forced upon them during the war that they sent parcels of diamonds on consignment allowing buyers to choose and return items. Buyers were subsequently reticent to give up the new conditions of trade once the war was over, placed funding pressure on the so-called midstream of the industry to finance the supply chain ever since.
Financial pressure on the midstream was the reason for the dip in the diamond sector up to and including last year. 2020 was supposed to be the year of recovery: that is now scotched with a potentially more disruptive impact on the sector still to come.
Plans by De Beers to overhaul its sales process in which it currently invites eighty-odd pre-selected buyers from the midstream to Gaborone in Botswana to view and purchase rough diamonds would appear to be as urgent as ever in a world of COVID-19.
This in part may be facilitated by the move towards online diamond sales as adopted more than two years ago by Lucara Diamond Corporation, a Toronto-listed firm that mines the Karowe operation in Botswana.
It patented 'Clara', blockchain technology that pares diamonds with buyers and is therefore more receptive to midstream requirements in a way that, say, the current De Beers process is not. A diamond manufacturer in business with De Beers is normally offered a selection of goods to buy on a take it or leave it basis.
"Never, we feel, has this innovation been more relevant or more important," said Eira Thomas, CEO of Lucara Diamond of Clara. A total of six sales had been completed on Clara in 2020 in which 25 out of 32 total on-boarded manufacturers had participated – the highest participation rate to date. A total of just over 1,800 carats and 821 diamonds had been transacted.
Lucara is also assisted by the fact that Karowe's diamonds are often large in size. Another London-listed counter, GEM Diamonds – which operates in Lesotho – as well as Lucapa a Sydney-listed firm which mines in Lesotho and Angola which also produces big stones.
"There are some limited transactions happening in the big diamond sector," said Patrick Mann, an analyst for Bank of America Merrill Lynch in a note earlier this month. "As such, we think that high value and big stone producers could outperform short-term relative to small diamond producers in the current environment," he said.