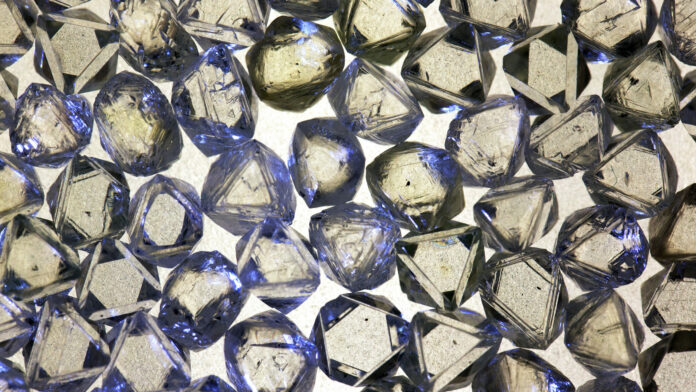 PETRA Diamonds continued to suffer the effects of declining market prices reporting second tender sales of $40.9m – 49% lower than the first tender sales of its 2024 financial year.
However, there are mitigating factors when comparing the two tenders. The previous, the first of the year, was effectively a catch-up as Petra had delayed sales from earlier tenders that occurred in the previous financial year. Carats sold totalled 444,029 carats in the second tender of this financial year compared to 696,194 carats in the first.
What is a consistent theme, however, is declining prices which were, on average, 20% lower in the second tender compared to the first. On a like-for-like basis, prices were 16.9% lower from the second to the first tenders reflecting "prevailing market weakness", the group said.
"We believe actions taken by major producers to curb supply and the two-month Indian moratorium will assist in bringing stability and support to the market and prices as inventory levels reduce," said Richard Duffy, CEO of Petra Diamonds.
The diamond market would remain "volatile" through the remainder of the calendar year, he added. "We continue to expect prices to benefit in the medium to longer term as a result of the structural supply deficit."
Earlier this month, De Beers suspended online diamond sales and committed $20m to marketing gems ahead of the year-end buying season, normally a high point of the year for diamond producers.
A similar effort to lower supply was launched by the Gem & Jewellery Export Promotion Council, an Indian government organisation. It teamed up with local diamond polishing associations to introduce a voluntary two-month freeze on rough diamond imports aiming at reducing inventory levels. Alrosa, the Russian diamond miner, suspended rough diamond sales for September and October as a result of subdued demand.
Petra has forecast lower prices for diamonds from all its operations, including Williamson, the Tanzanian mine which restarted production this financial year following a tailings dam burst.
The average price for rough diamonds mined from Cullinan and Finsch in South Africa would be $110 and $130/carat and $100 and $115/carat respectively. This compares to previous assumptions of $125 to $140/carat for Cullinan and $105 to $120/carat for Finsch mine. Prices for Williamson goods would be $225 to $250/carat from a previous assumption of $240 to $270/carat.
The group stressed these price assumptions were internally generated and were subject to change given the volatile nature of the diamond market currently.
De Beers reported eighth cycle sales of $200m (2022: $508m) compared to $370m in its seventh sales cycle of 2023. "On our numbers this is the worst De Beers sight since 2015, excluding 2020, which was impacted by COVID-19," said Berenberg Bank.
"Again this will put pressure on De Beers, which is 6% of our 2024E EBITDA for Anglo," the bank's analyst Richard Hatch said. Anglo American owns 85% of De Beers.