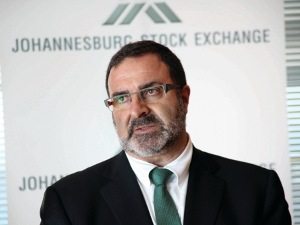 [miningmx.com] – A struggle is underway between ASX and JSE-listed coal junior Resource Generation (Resgen) and one of its major funders – the Noble Group – concerning greater influence by Noble over the Resgen board.
The confrontation has been triggered through the latest round of negotiations concerning the $400m that Resgen still needs to raise to build its proposed Boikarabelo mine in the Waterberg.
Noble is an anchor shareholder in Resgen and has already provided major financial support to the company but it is also part of the consortium with which Resgen is negotiating to raise the final funding required.
A Resgen company announcement released to the ASX today said the company had received a request from Noble to appoint additional directors to boards of Resgen and its BEE subsidiary Ledjadja Coal.
Amongst the executives Noble wishes to appoint as director is Greg Hunter – well known in SA business circles from previous positions he held with Mzi Khumalo's Metallon Gold and, subsequently, AIM-listed Central African Gold.
Noble has requested Resgen to confirm by September 25 that these appointments will be made failing which "Noble would consider whether to pursue other alternatives.'
Noble is a strategic partner for Resgen and a major backer for Boikarabelo having put up a US$68m loan facility as well as another $55m loan to pay for construction of the rail link between the mine and the main Transnet railway line out of the Waterberg.
Noble holds a 7.5% stake in Resgen and has been appointed the supply chain manager as well as exclusive marketing agent. Noble has also signed an off-take contract to buy an initial 3mt/year of coal for the first eight years of production.
Development at Boikarabelo is currently stalled with major construction yet to begin because Resgen is battling to source the remaining $400m it needs to build the mine in the face of weak international coal prices.
Latest stage in the drawn-out proceedings is that the "club of financiers' with which Resgen is negotiating has requested Resgen management look at a "contract mining model' to see if this will cut costs and capital requirements.
According to the Resgen statement, Noble believes the ability of the Resgen to deal with these issues "will be greatly enhanced by the appointment of additional directors and that , because of the urgency of these issues, these appointments should be made immediately.'
The Resgen board has rejected Noble's request because "Noble has not explained how the appointment of additional directors would be in the interests of all shareholders ' and that "the board considers it has the required expertise with its consultants to address the issues currently being faced.'
Resgen has also highlighted that Noble is part of the "club of financiers' commenting that "terms and conditions put forward by the club have not been acceptable to the company due to the excessive returns sought by some club members including Noble.'
Resgen has indicated it will make those terms and conditions public should Noble call a general meeting to change the company's board and added it is still in discussions "with intermediaries with respect to various other potential lenders.'