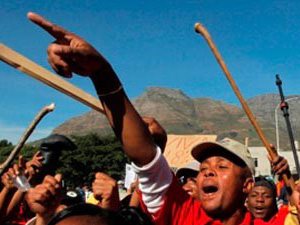 [miningmx.com] – EFFORTS to end a one week strike in South Africa's coal sector could extend into the week after negotiators strove fruitlessly to bring the dispute to a close that has stopped production from the mines of Exxaro Resources, Anglo American, and Glencore.
The Chamber of Mines of South Africa, which is negotiating with the National Union of Mineworkers (NUM), on behalf of the mining firms issued a statement on October 9 saying it had made concessions to its last offer of a 5.5% to 8.5% wage lift for lowest paid workers.
The new offer is for two years effective July 1 in which most workers in the lowest paid categories could receive increases staggered over time of between R750 and R1,000 per month in the first year and guaranteed increases of 7.5% in the next.
Most employees in the higher categories could receive increases of between 5% and 7.5% in both years. There would also be increases to living out allowances and a housing allowance, but these would vary from company to company, the chamber said.
An industry source said there had been an improvement in the prospects of signing a new wage deal. "There are some positive signals,' the industry source told Miningmx on Monday evening.
"The coal producers are facing subdued demand and price pressures,' said Motsamai Motlhamme, head of employment relations at the Chamber of Mines. "The offers we have made are at the limit of what is affordable. Further strike action will continue to undermine the sustainability of the industry and jobs,' he added.
The NUM represents about 72% of some 17,000 employees in South Africa's coal mining industry.