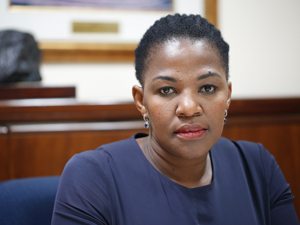 [miningmx.com] – SO much for the South African government's plans to aggressively expand coal exporting facilities in Richards Bay as a means of encouraging the growth and independence of junior, black-owned coal miners.
According to Nosipho Siwisa-Damasane, CEO of RBCT, a proposed joint venture with Transnet that would see RBCT's capacity expanded to 110 million tonnes a year (mtpa) has effectively bit the dust.
That's because Transnet wants to go it alone with its own terminal of 10mtpa to 20mtpa, also in Richards Bay, despite the obvious (and more costly) duplication in services.
However, Transnet isn't pressing ahead with its terminal plans either because coal prices have slumped to 12-year lows and the outlook isn't encouraging. The evidence for this is data from IHS, a world renowned coal market news and data service, showing South African coal exports outside of RBCT fell in 2015.
While RBCT increased exports to a record 75.4mt in 2015, total coal exports from the country were static at some 77mt suggesting that exports through alternative coal export facilities, such as Richards Bay Dry Bulk Terminal (DBT), almost halved since 2014, said IHS.
RBCT is dominated by South Africa's three largest coal producers – Anglo American, Glencore, and South32 – with juniors operating through the nearby DBT. (RBCT doesn have an empowerment export programme in which some 4mtpa of coal is exported).
Commenting on RBCT's export targets for 2016, Siwisa-Damasane told Finweek that the company was "cautiously optimistic" it could maintain exports at the 2015 level of 75mtpa adding, however, that the terminal "can't ignore what is happening to the price of coal at the moment".
RBCT was unlikely to export 81mt of coal that had been forecast for 2017. Exports of 75mt had been forecast for 2015 (compared to actual exports for the year of 75.4mt) followed by 77mt in 2016 and then building up to 81mt in 2017.
"The fact that we've been able to meet forecast volumes in 2015 was a very steep target to meet. It is a real record considering that our 5.7% growth in volumes was against a weaker coal price," said Siwisa-Damasane. The price of export coal has, on average, fallen 40% since the start of 2014.