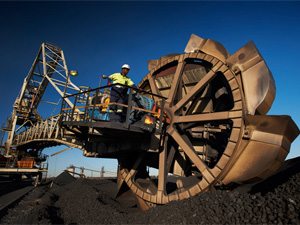 [miningmx.com] – AUSTRALIA'S Universal Coal is one of the companies in line to buy Exxaro Resources' mothballed New Clydesdale Colliery (NCC), the 700,000 tonnes a year (mtpa) thermal coal operation in Mpumalanga province.
NCC has been earmarked for sale by Exxaro previously through a tender process. This followed a review of the company's assets which found NCC to be a "negative-margin operation' owing to its exposure to the export markets which it almost exclusively served. The colliery also has a relatively limited mine life.
Exxaro had also received interest from companies operating mines on adjacent properties to NCC while a third pocket of potential suitors for the mine had an interest in NCC's infrastructure which would have had the knock-on effect of extending its mine life. NCC employs about 402 people.
"It is Exxaro's opinion that a third party may be better placed to extract optimal value from this unique asset,' Exxaro said in a statement earlier this year.
The Australian-listed coal development firm said in an announcement on November 26 that it had submitted a binding offer for "a potential coal asset acquisition in South Africa following a competitive tender process'.
"The name of the preferred bidder is expected to be announced by the end of 2013,' said Universal Coal. "Details of the proposed transaction would then follow in due course should Universal Coal be nominated as the preferred bidder,' it said.
Writing in a report dated October 15, Australian stockbrokerage, Patersons, said the company was involved in bidding for NCC on the basis that it was contiguous with its Roodekop prospect.
"If Universal is the successful bidder for NCC it will provide an established platform to exploit the 84mt of measured and indicated resources at Roodekop,' said Patersons analyst, Matthew Trivett.
Hilton Atkinson, spokesperson for Exxaro Resources said the group was unable to comment on the sale process for NCC. "We will probably issue a statement in due course likely by the end of the year,' he said.
Universal Coal has a commercial relationship with Exxaro after agreeing to on-sell some 100,000 tpy of 6,000kCal export quality coal from its Kangala prospect.
Kangala is expected to have 2.1mtpa in saleable production of which some 2mpta will be sold to Eskom following signing of a sales agreement in March.
Universal Coal has a mining right granted for its Roodekop prospect while an integrated water use licence is expected later this year, or early in 2014.
First, however, Universal Coal has to wait if it's succeeded with the NCC bid which will change the contents of a feasibility study of Roodekop which was completed end-2012.