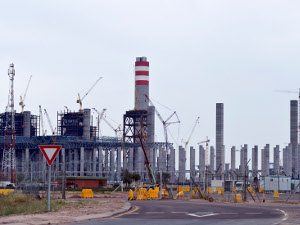 [miningmx.com] – ESKOM'S difficulties completing its Medupi power station on time are starting to take their toll on Exxaro Resources which has almost finished building Grootegeluk, the 4,800MW power station's main source of coal.
Wim de Klerk, CFO of Exxaro Resources, said delays in commissioning Medupi, the first unit of which may be pressed into action by December, will mean a 7.4% or R700m increase in the capital cost of Grootegeluk to R10.2bn.
"When we heard Medupi would be delayed, we decided not to deploy certain capital with the result that costs, such as steel, increased in the meantime," said De Klerk at a media conference following Exxaro Resources' full-year results presentation.
Grootegeluk is to provide 1.3 million tonnes to Medupi in terms of a renegotiated supply agreement signed between Exxaro and Eskom last year.
The delays relate to the negative impact of strike action at Medupi as well as "technical difficulties" in commissioning the Grootegeluk mine which is, nonetheless, nearly 90% complete after some R7.1bn had been spent.
To compound matters, De Klerk said Eskom had declared a force majeure at Medupi which had already agreed to penalties in terms take-or-pay agreements for coal already supplied to the station. Exxaro Resources said the penalties accepted by Eskom were too small to disclose in the R59.6bn group's year under review.
At the results presentation, De Klerk declined to provide more details regarding the force majeure – a legal term employed to release Eskom from liability for contractual agreements – but said that negotiations were due to begin with Eskom.
However, he later said Exxaro wanted to establish first whether Eskom had grounds for declaring a force majeure; and secondly over what time period would any potential exemption from liabilities apply. Asked if Exxaro Resources may seek compensation from Eskom, De Kerk said; "Yes, we would".
Sipho Nkosi, CEO of Exxaro Resources, added that his company had "kept [its] part of the bargin" in respect of having Grootegeluk ready in time to supply Medupi. "We would have started supplying Eskom with coal this week, he said
No sooner had Eskom said it had resolved industrial action at Medupi yesterday than it was embroiled in fresh problems related to weldings on the boilers at the power station that the contractor, Hitachi, acknowledged fell below best practice.
South Africa's public enterprises department said it was monitoring the problems with Hitachi's work – which BDLive said today related to only 1% of total weldings on the boilers – and that it would take "decisive action" if required.
FUNDING PRESSURE
In a financial year (ended December 31) heavily skewed by corporate restructuring, including sales totalling R3.48bn, Exxaro Resources reported just over an R800m decline in net operating profit to R1.73bn, a decline of 32% year-on-year.
It prompted Nkosi to describe the year as the worst on record in terms of market related difficulties with all commodities in which Exxaro worked – mineral sands, coal and iron ore – declining in price.
A 500 cents/share total dividend was declared but tellingly the final dividend was only 150c/share reflecting more cautiousness about the current year – notwithstanding Nkosi's belief the market would return.
Exxaro's board also has its eye on the group's balance sheet which is being compressed more than in the past. Exxaro moved to a net debt of R2.2bn, largely owing to the capture of African Iron during the year for A$313m (R2.9bn).
The net debt to equity ratio moved to about 8% and with significant capital spending to come for Exxaro over the next few years, De Klerk reckoned the ratio could shift to the low twenties.
Some $320m (R2.9bn) had been lined up for spending at Exxaro's Mayoko project, an iron ore venture in the Republic of Congo (RoC) acquired through African Iron that De Klerk said would earn Exxaro decent returns even at its first phase output of 2Mtpa.
Of this capital, the majority was to build out the existing 465km, 10Mtpa rail line from Mayoko to Pointe Noire, on the RoC peninsula. A mining convention (permit) was still outstanding and De Klerk said no monies would be put on the table until the mining permit was rubber stamped.
There was also uncertainty about the status of Exxaro's planned 600MW integrated coal mine and power station in the Waterberg that it is building in terms of the South African government's Independent Power Producer (IPP) policy.
Said Nkosi in notes to the group's financial results: "The bankable feasibility study is conditional on the establishment of an appropriate enabling environment in which such a development can proceed".
Ernst Venter, head of new business at Exxaro, said the "enabling environment" referred to two bills before parliament – and which hoped would be passed in the current sitting – liberalising the market for IPPs.
Currently, producing power for a company's own use, and for the rights to wheel the power, is subject to the discretion of the public enterprises minister, Malusi Gigaba.