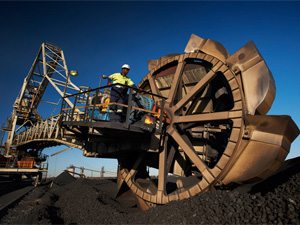 [miningmx.com] – EXXARO Resources sought to remind investors of its operating credentials today saying its coal business was 'stable' and that it would spend R3.8bn building a 2.2 million tonnes/year coal mine in Mpumalanga province.
The mine, situated in Belfast, was described by the under-fire group as "one of the last high quality reserves" in the province and presented it "with an opportunity for excellent returns". Most of the production was destined for the export markets, it said.
In a reference to the R5.3bn write-down of its iron ore exploration project, Mayoko, some of which was in capital goods even though it had not signed infrastructure agreements, Exxaro said it would only spend R200m on the project before it had received regulatory approvals.
The Mayoko impairment, which could be as much as 10% of Exxaro's market value, has raised questions about management's judgement even though the group's share price is about double its value of 2010.
Macquarie Research said the Mayoko project, which is situated in the Republic of Congo (RoC), was unlikely to be built owing to below par geological results whilst a claim it was frustrated by delays to a rail and port framework agreement was only a side issue.
Wim de Klerk, CFO of Exxaro Resources, said in a 'finance director's pre-close' statement to the group's interim period, said commissioning of the Belfast project would be in the second half of Exxaro's 2017 financial year. It would operate for 16 years producing 500,000 tonnes a year for use by Eskom.
De Klerk expected "stable financial and operational results" for the coal business. Production would be higher year-on-year while the financial figures excluded compensation from Eskom relating to coal from Exxaro's Grootegeluk Medupi Expansion Project (GMEP) the power utility did not buy.
Eskom has paid Exxaro about R3.2bn over the last two financial years in penalties after delays to the building of its 4,800MW Medupi power station resulted in Exxaro having to defer output – and cash flow – from GMEP.
An agreement on the penalty for the current six month period would be submitted for approval by the boards of both companies in August. Coal deliveries from GMEP to Medupi started on June 23, said De Klerk.
Exxaro also said the first phase of Thabametsi yielding 3.5mtpa, would coincide with construction of a 600MW coal-fired power installation being development by GDF SUEZ, an independent power producer.
A bankable feasibility study for the development of the first phase of Thabametsi North would also begin in the third quarter of this and was due for completion in mid-2015. Thabametsi, which has more coal resources than the adjacent Grootegeluk section, was situated in South Africa's Limpopo province.