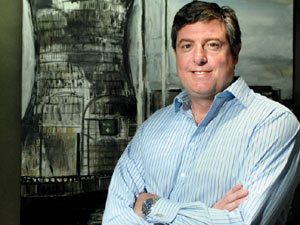 [miningmx.com] – IT was just after David Brown took the acting CEO position of Coal of Africa (CoAL) from the departing John Wallington that the junior miner's share price sank to its lowest level.
It's no reflection on the undoubted presence of Brown, an old-hand these days following more than a decade of service at Impala Platinum, so much as investors craving predictability. They need to know management's mind which is difficult to achieve when it's in a state of flux. CoAL's CFO Wayne Koonin left earlier this year.
So it will be well received if Brown permanently adopts the leadership of CoAL. He concedes he is weighing up whether to take the CEO's position or find someone else to run the company allowing him to resume the chairmanship.
"I'll decide in the next few months. I'm quite enjoying it. It's challenging and I like the people at the company," he says.
Meantime, Brown has restored momentum to the share price which rose to R1.80/share. Although the share is well off the R3 levels of earlier this year, it's a start. "The outlook in 2014 is substantially different from where we have been. We need to take this positive momentum forward," says Brown.
It has helped that the Mpumalanga province assets are now largely out of CoAL's hair. Brown also threw some fresh light on Vele's place in the company's portfolio.
This is the coking coal mine in the far northern reaches of the Limpopo province which, in the words of Wallington – who so patently tired of endless politicking around the enviromental permits required for the asset – became the most famous colliery in the world.
Brown thinks Vele will cover CoAL's corporate and exploration costs whilst the company builds the Soutpansberg project, Makhado, now dubbed the company-making asset following publication of a detailed feasibility report in which sales were forecast to be 2.3 million tonnes a year (mtpa) of hard coking coal and 3.2mtpa of thermal coal for 16-years.
However, Makhado carries a hefty price tag of some R3.9bn – development costs double the market value of CoAL. It's partly for this reason finance will be raised against the asset with up to 49% equity funded. This could be a combination of an empowerment firm or a strategic partner assuming one suitor couldn't provide both.
Usually, when mining companies talk about attracting strategic partners, especially in the coal sector, it means an end-user or trader.
There's no shortage of them in the South African coal market: Gunvor, Noble, Vitol have all committed funds to the coal domestic and export market suggesting that the smart money is on CoAL and its peer group – Keaton Energy, Firestone Energy, Resource Generation – to become good businesses in a couple of years.
The average price per tonne of hard coking coal has been estimated at $206, a level about which Brown is slightly apologetic. "It's an outside estimate [industry experts Wood MacKenzie] and we actually modified it downwards," he said.
Currently, hard coking coal contracts are expected to average $150/t for the remainder of the year, a level not seen since 2009. But it can't remain as low which plays to CoAL's plan to have Makhado up and running as much as two years after the start of the project. The market could be a very different place by then.
Said Macquarie Commodities Research of the current coking coal price: "We do not believe this is sustainable due to the fluidity of trade flows and low stock levels, and see this as a buying opportunity for both physical and financial market players".