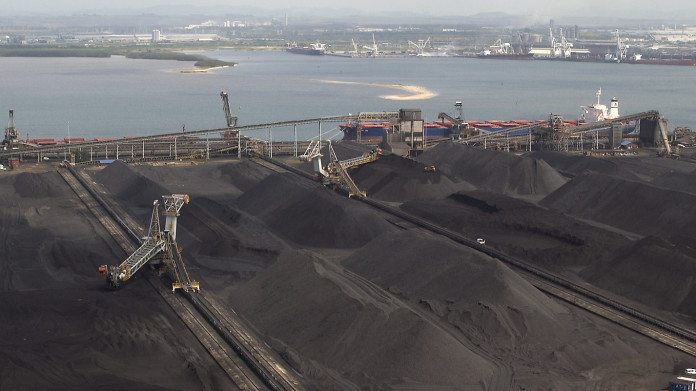 GUPTA family-controlled Oakbay Investments has sold Optimum Colliery's coal export allocation through the Richards Bay Coal Terminal (RBCT) to huge private international coal trading firm Vitol for around $250m.
That's according to a well-placed South African coal industry source, but the story is being "stonewalled" by RBCT chairman – and president of the Chamber of Mines – Mike Teke. Oakbay Investments responded that it: "did not comment on market speculation".
Vitol this morning declined to comment on the story after being sent e-mailed questions last Thursday.
According to the source, the deal has infuriated the existing members of the RBCT because they hold pre-emptive rights to use Optimum's export allocation in the event that Optimum is not able to supply the coal from its own operations. RBCT members also don't want a pure commodity trading firm as a member of the terminal.
Miningmx understands the RBCT members have held at least one meeting to discuss their response to this deal but, when asked to comment, Teke replied: "I know nothing at all about anything like this".
Optimum holds a 7.5% stake in the RBCT which would be equivalent to an annual export quota of six million tonnes (mt) of coal at a total annual terminal throughput of 81mt. Optimum obtained that quota through a BEE deal when it was created as a separately listed company by BHP Billiton as part of that group's effort to meet South African BEE requirements.
At the 2015 total export level of 75mt from the RBCT, the Optimum stake would have amounted to 5.5mt worth $360m in revenues at current coal prices FOB Richards Bay of around $65/t.
Oakbay subsidiary Tegeta Exploration bought Optimum in April for R2.15bn in a deal approved by business rescue practitioners Piers Marsden and Peter van den Steen and agreed to by former owner Glencore.
The sale of the export quota for $250m (about R3.6bn) would pay off the purchase price and leave Tegeta/Oakbay with a R1.5bn profit.
The immediate question is why the business rescue practitioners did not sell off the quota themselves as part of their mandate to restore Optimum to sustainable profitability. This was after Glencore put the colliery into business rescue proceedings because of the bust-up with Eskom over the price of coal supplied to the Hendrina power station.
Glencore had previously shut down Optimum's export business because of low export coal prices, but it kept the domestic operations going because of the contractual commitments to Eskom.
A spokeswoman for the business rescue practitioners declined to comment. Glencore has also declined to comment on the sale of Optimum's export allocation.
The reason why the business rescue practitioners did not sell the export quota outright may be because it is understood that the other RBCT members have pre-emptive rights over its use assuming Optimum cannot supply the coal itself which, at present, it cannot because its export mining operations have been shut down.
Companies wanting to use Optimum's quota would have to pay a price to "lease" parts of the quota. The lease fee varies according to prevailing market coal prices but, in the boom years when export coal was costing more than $100/t FOB Richards Bay, that lease fee was as much as $10/t.
It's understood the RBCT members are against Vitol becoming a member because the trader does not own operating coal mines in South Africa and so has no "skin in the game" on the ground in the country in a business that has been built up over the past 45 years by South African mining companies.
While Glencore is also a major commodity trading firm it owns major coal producing mines in South Africa.