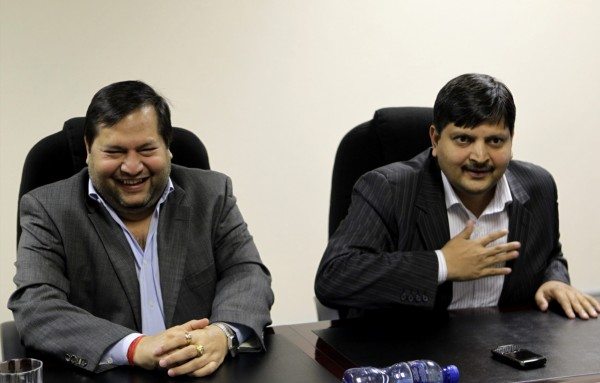 OAKBAY Investments transactions worth just over R4bn flagged as "unusual and suspicious" by South African finance minister, Pravin Gordhan, related to Optimum Coal Mine before the Gupta family company bought it out of business rescue.
This is according to Gupta family lawyer Van der Merwe Associates which today responded to an affidavit filed in the High Court of Pretoria on October 14 by Gordhan, declaring the family was "delighted" to have received it.
This account does not appear to add up, however. The affidavit identifies transactions that occurred after April 14 which is the date when the sale of Optimum Coal to Tegeta Exploration, a subsidiary of Oakbay Investments was concluded. A request for clarity on the matter was not yet been received by Miningmx.
The affidavit cited 72 transactions conducted by Gupta family companies which have unlisted holding company, Oakbay Investments at their apex.
"At last, the Gupta Family and Oakbay can begin to formally clear their names," said Van der Merwe Associates. "They thank him [Gordhan] for this opportunity."
Gordhan is seeking a declaratory order from the court that cabinet members cannot interfere in the dealings between South African banks and Oakbay Investments.
Earlier this year, South Africa's largest banks shut down the accounts of Gupta companies. They did not give reasons, but it's thought the affidavit – which describes the transactions as "unusual and suspicious" – helps fill in the missing gaps.
Van der Merwe Associates said that it was studying the affidavit in detail, but added that six transactions totalling R4.096bn referred to the Optimum mine before it was under Oakbay's control "… and so were not transacted by Oakbay or the family".
The lawyer added that most of the other transactions were "perfectly legitimate" whilst a further 20 refer to "multiple transactions" that made analysis impossible without further detail from Gordhan.
"None of the transactions related to Oakbay or the Family, which are over a five year period, were flagged to the FIC [Financial Intelligence Centre] as suspicious. To put this in context, the FIC's own 2015-16 Annual Report showed that 98,054 transactions in that year alone were flagged as suspicious by the banks," said Van der Merwe Associates.
Oakbay Investments yesterday defended a decision to move the account of Optimum Coal Mine's R1.5bn rehabilitation fund after having its Standard Bank account closed.
The Gupta family company was responding to speculation that R1.3bn had been raided from the fund, possibly to repay debt raised to buy Optimum Coal Mine out of business rescue proceedings. Earlier this year, Oakbay Investments bought Optimum for R2.15bn through Tegeta Exploration.
"Any suggestions that the Rehabilitation Fund has been drawn down upon are absolutely untrue and defamatory," said Oakbay Investments in a statement.