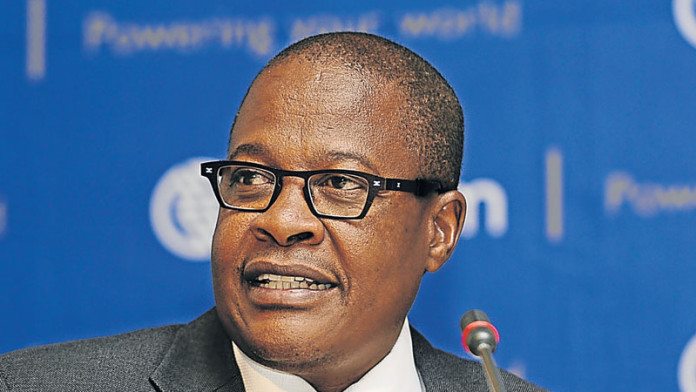 BRIAN Molefe is to return as CEO of South African power utility, Eskom, barely four months after stepping down amid controversy he assisted the Gupta family company, Tegeta Exploration with the purchase of Optimum Coal mine.
Eskom spokesman, Khulani Qoma, told Talk Radio 702 this morning that Molefe's resignation was deemed null after the board and Public Enterprises department failed to agree a resignation package.
"Definitely' he is coming back on Monday," Qoma said on radio. This means that Molefe is due to end his brief spell as a member of parliament in order to resume his former position.
The news was met with dismay by opposition parties, civil organisations and the labour movement with some calling for an interdict which would legally prevent the appointment from taking effect.
Speaking ahead of a march to Constitution Hill in Johannesburg on May 16, Mmusi Maimane, leader of the Democratic Alliance, said he had challenged his party's legal team to see if the decision to bring Molefe back to Eskom could be interdicted.
"Brian Molefe does not belong in parliament or at Eskom. Our stance is we can't allow someone facing criminal charges to return as CEO of Eskom," he said.
Prince Mashele of the Freedom Movement added that his organisation would seek an interdict or lend its support to any group or political party that sought to take legal means to block the appointment.
The National Union of Mineworkers described the return of Molefe to Eskom as "a joke" but that it would consult extensively on the matter at its national executive committee meeting, also on May 16.
"This situation is contributing towards making Eskom one of the weakest organization in terms of leadership," said the NUM. "We will await a proper invitation from Eskom so that we can comment appropriately on this joke."

PENSION
Molefe was to receive a R30m pension payment until the payout was revealed by the Sunday Times, amid much anger from political parties and civil groups as he had only served as Eskom CEO for 18 months.
Public Enterprises minister, Lynne Brown, subsequently ruled the pension payout as unjustified, a development that effectively nullified his resignation. "We could not agree … so a decision was made to rescind the initial decision by the board for a pension payout," Qoma told 702.
Parliament later issued a statement in which it confirmed Molefe had resigned as a member of parliament effective May 14. "Speaker of the National Assembly, Ms Baleka Mbete, wishes Mr Molefe well," it read.
Businesslive quoted Zizi Kodwa, spokesman for the African National Congress, as saying the reappointment of Molefe at Eskom was reckless given that a report by the Public Protector had linked Molefe to illicit business with Tegeta.
"The report, while still under review, made observations against Molefe which, at the time, he had deemed serious and significant enough to warrant his resignation," said Kodwa.
"The decision therefore to reinstate him in his former position without these matters being resolved is tone deaf to the South African public's absolute exasperation and anger at what seems to be government's lacklustre and lackadaisical approach to dealing decisively with corruption – perceived or real," said Kodwa.