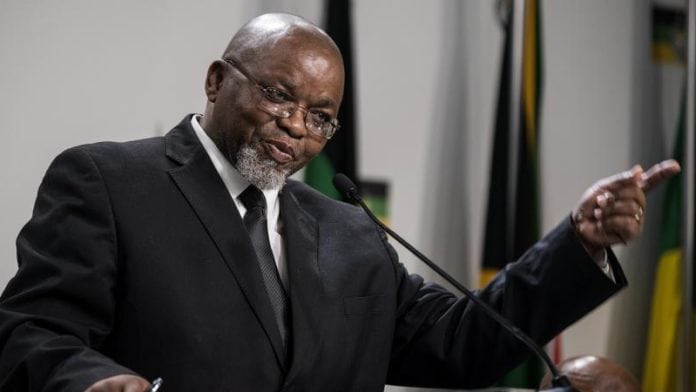 Minister of Mineral Resources Gwede Mantashe  defended South Africa's coal producers and criticised the country's high electricity tariffs yesterday (Wednesday) taking a swipe at South Africa's Integrated Resource Plan (IRP) in the process.
He was speaking at the Council for Scientific and Industrial Research (CSIR) in Pretoria at a function held by the Mapungubwe Institute for Strategic Reflection to launch a book titled, "The future of mining in South Africa. Sunset or sunrise?"
Mantashe criticised the IRP plan for its stated aim of limiting generation of power from coal by 2025 and, instead, favouring greater use of renewable energy generated by independent power producers (IPPs).
He described South Africa's attitude to its coal industry as "hypocritical" and commented, " South Africa is a strange nation.  South Africans like destroying what they have in the hope of creating something new in the future and that's our relationship as a country with coal mining.
"We want to be ahead of developed countries,  we want to close down dirty coal – the polluting mineral – today because there is a future after coal.
"When you look at the Integrated Resource Plan (IRP) –  and I am engaging with my counterpart there –  it limits coal generation of  power by 2025.  That does not make economic or arithmetical sense.
" Eskom generates power from the Koeberg nuclear station at 40c a unit. It generates power from coal at around 80c to 90c a unit on average but it is buying energy from independent power producers at 220c a unit.
"They keep saying that price is coming down –  and it must come down – but it does not make arithmetical sense to generate energy at 40c and 80c and buy it at 220c because ideologically you believe it is the right thing to do.
"We cannot destroy what we have on the basis of hoping that what is coming to life is going to be better."
Mantashe then defended the country's coal exporters from the demands that have been made that export coal going out through Richards Bay should be diverted to meet coal supply shortfalls on Eskom power stations.
He commented, " if you are a coal exporter you will not destroy your relationship with a customer where your coal is needed for some uncertain demand in your (own) country."
Turning to manganese Mantashe highlighted the situation where the high cost of South Africa's power has greatly hampered local beneficiation of manganese ore into ferro-alloys through smelting which requires large volumes of electricity.
He commented, "We are a dominant supplier  of manganese but we cannot beneficiate it here.  Our chrome and manganese get beneficiated big-time in Malaysia for only one reason which is that our electricity price is inhibitingly high.
"Those electricity prices are making beneficiation a dream – a mirage – that continues to disappear.
Mantashe concluded that, "all these elements will determine whether we are a sunrise or a sunset industry.  Mining will only be a sunrise industry through us doing the right things."