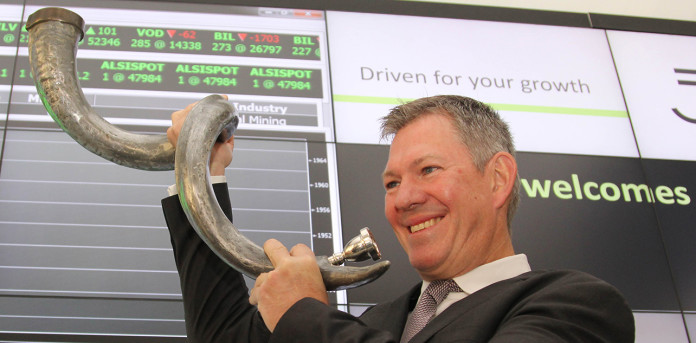 ONE of the biggest events in South Africa's coal mining sector this year is the sale of South32's South African Energy Coal (SAEC), a division of the Perth-headquartered company that produces about 28 million tonnes a year (Mt/y) of thermal coal of which approximately half is sold to Eskom.
Whilst the sale is going to create huge opportunity for the successful entity or consortium that buys it, it also raises questions about South32's future interest in the country considering that of all its new business spend so far this year – equal to about $1.5bn – zero has been in the country.
"There's definitely not a 'South Africa-off' strategy at South32," said Mike Fraser, COO for South32's Africa division. "Aluminium is absolutely part of the strategy," he said of the Bayside and Hillside aluminium smelters. In fact, almost third of South32's interim earnings this year from "the aluminium chain" of which South Africa is a part.
The second largest contributor to South32's interim earnings was manganese. A lot of that was driven by the high margin Australian business GEMCO, but Fraser insisted the South African mines are front and centre of South32's strategy. "We are the global leader and we cannot but be in South Africa as we've got 80% of total world manganese resource".
He acknowledged, however, that the poor track-record of junior mining in South Africa – explorers essentially – is a disadvantage. South32's strategy is to farm-in to the early work conducted by junior miners.
"There's not a whole number of dripping roasts," he said, although improvements to the Mining Charter which has removed the need for empowerment for exploration companies has "… moved things forward," he said.
Fraser also pointed to South32's investment in its existing South African business including some R4.3bn investment in Klipspruit, a coal mine – a decision taken prior to the election of President Cyril Ramaphosa. "I still think that was a bold decision even knowing we'd be exiting," he said of the impending SAEC divestment.
SAEC
Details are sparse regarding progress on the sale process of SAEC. Graham Kerr, CEO of South32 said a short-list is being compiled from the more than 50 initial applications. Miningmx can reveal that number is down to about three parties which consists of joint ventures and consortiums.
Fraser, speaking to Miningmx at the firm's Johannesburg office, provided a bit more detail on the process. Whoever wins the bidding process must be anchored by a black-owned company with a balance sheet that can shoulder the cost of resource renewal, production growth, and $692m in rehabilitation charges.
"Firstly, the structure needs to be majority black for transformation reasons," said Fraser. "Secondly, whoever we partner with has to have a balance sheet for the long term. There are very significant rehabilitation charges that require ongoing capital investment as any coal mine would have in order for a sustainable future. It would be irresponsible of us not to have someone who could meet it," he said.
Although the rehabilitation charges totalled $692m, some 40% of that amount was funded in the form of guarantees, cash in the bank, or via trusts held by SAEC.
Fraser said the successful bidders for SAEC would have to demonstrate an ability to not only renew the company's resources, but potentially grow production.
"There are 4.5 billion tonnes of in-situ coal resources producing 30Mt/y and 21% entitlement to Richards Bay Coal Terminal (RBCT)," said Fraser. "You could run that entitlement really hard. We know RBCT can push harder if it hits the straps.
"The other significant opportunity is in supporting Eskom in long-term coal supply. We think Eskom should be going back to firms and signing long-term deals – not necessarily cost plus, When the company is signing R1.400/t landed coal supply agreements, we think it can do a lot better," he said. The winning bid would be unveiled in about ten to 12 months' time.