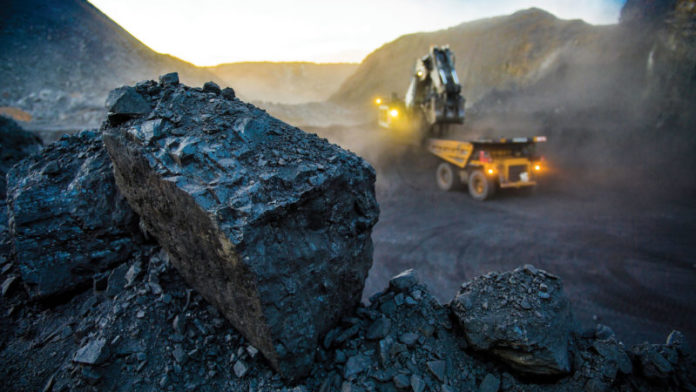 SOUTH32 will report lower-than-forecast coal volumes from its South African Energy Coal (SAEC) business following community disruptions and a slower-than-anticipated increase in production from Klipspruit where a new dragline has been installed.
Commenting in its March quarter production report, the penultimate three-month period of its 2019 financial year, the group also said it continued to build its cash pile which grew to $726m, an increase of $48m in the quarter. This was despite spending of some $37m on the group's continued share buy-back programme.
Elsewhere in the portfolio in respect of the group's southern Africa assets, South32 maintained production guidance at Hillside Aluminium and Mozal Aluminium despite higher incidences of rolling black-outs by Eskom, the state-owned power utility.
Both operations reported the negative impact of "elevated raw material prices" including alumina supplied from the group's Australian mine Worsley Alumina. As a result, South32 had decided to restructure Hillside Aluminium, entering into a consultation process in the March quarter with employees – a process it expected to conclude in the current quarter.
Cyclone Idai, which resulted in the loss of at least 1,000 lives in Mozambique (approximately 600) and Zimbabwe, had also impacted Mozal Aluminum. South32 said that damage sustained to the smelter facilities was expected to result in higher power costs during the June 2019 half year.
Production from SAEC fell 9%, equal to 1.89 million tons (Mt) to 18.3Mt in the year-to-date ended March, albeit production improved during the March quarter as domestic sales volumes benefitted from a contract to sell lower quality stockpiled product. But community protests at the mines loomed large.
The Minerals Council South Africa told Miningmx on March 12 that up to "hundreds of millions of rands per month in revenue" had been lost following a prolonged increase in the incidence of community unrest, some of it criminal.
"The Minerals Council has not undertaken a formal survey of losses to coal mining companies as a result of protest action," said spokeswoman, Charmane Russell last month, adding that "… these protests pose a threat to security and safety of employees, as well as supply of coal to Eskom which is already grappling with coal supply issues".
South32 added that a delay in the implementation of a new shift pattern at Khutala and slower-than-expected ramp-up of activity following the Klipspruit dragline's return to service resulted in lower than planned volumes in the March quarter.
"The dragline incident at Klipspruit has been confirmed as an insurable event and the volume and cost impact will be subject to an insurance claim," it said.
As a result, 2019 export coal production from South Africa would come in at 10.7Mt compared to previous guidance of 11.5Mt. There would also be a larger decline in lower margin domestic production to 15.5Mt compared to previous guidance of 17.5Mt, it said.